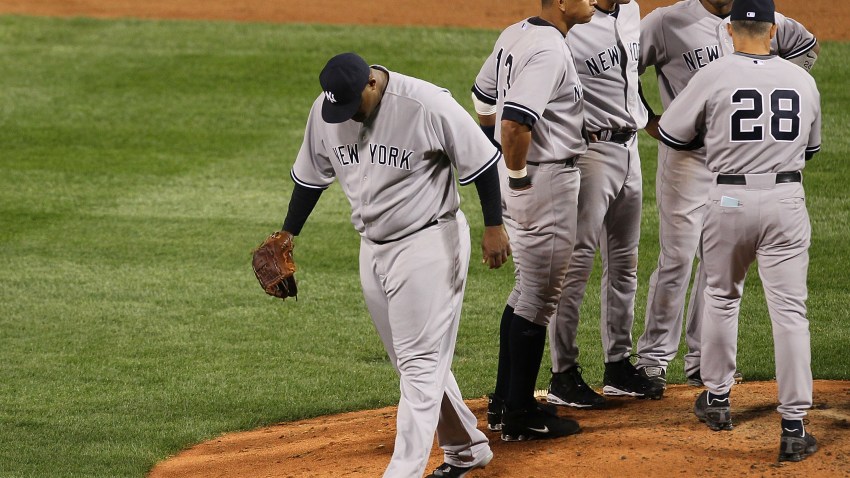 The game lasted three hours and 46 minutes. There were 16 runs scored and 24 base hits. Welcome to the 2010 baseball season. Welcome to another all-nighter between the Yankees and Red Sox at Fenway Park!
When the Bronx Bombers led 5-1 after four innings, it meant nothing. After all, this is the greatest rivalry in sports; this where no lead is safe; this is the baseball cathedral where "Teddy Ballgame," "Yaz", "Rocket" and Pedro --turned the game into an art form for so many years.
Starting pitcher C-C Sabathia couldn't stand prosperity last night.
And the Yankees bullpen which included poor outings from Chan Ho Park, Damaso Marte and Joba Chamberlain -- couldn't bail him out.
And the Yankees were sloppy too. Brett Gardner made an awful throw from left field. Nick Swisher mis-played Kevin Youkillis' crucial triple to right. And Jorge Posada mis-handled a pitch that turned into the game- winning run.
The Yankees lost their 108th season opener, 9-7. It was a game they deserved to lose.
But let's not get crazy. One game does not make a season. And these two rivals will ratchet it up again on Tuesday. And they'll meet another 17 times this year -- and could play a crucial series the final weekend of the season, right back here at Fenway.
At least order has been restored to the sports universe. Baseball is back. The Yankees-Red Sox rivalry is very much alive. And the ancient corridors of Fenway Park are once again filled with smoke as the smell of burnt sausage, peppers and onions -- permeates the air. I'll take one loaded, please!