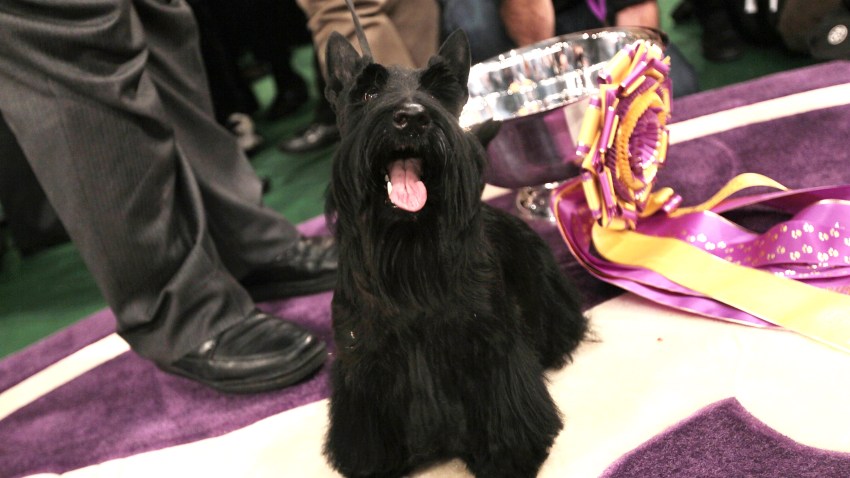 Sadie, the heavily-favored and celebrated Scottish Terrier, won Best In Show at the Westminster Kennel Club All Breed Dog Show at Madison Square Garden Tuesday night, completing her sweep of the Triple Crown of dogdom.
This year's Westminster Best In Show competition -- the 134th -- was more challenging, more exciting and yes, more athletic than any in recent memory. The seven competing canines were superlative, in championship form, and all elicited loud support.
And Sadie, after winning the National Dog Show in November and the AKC National Championship in December, was splendid in grabbing her third major championship in four months. Moving with just the right due deliberation, Sadie let drop a strikingly visible bright half-moon of pink tongue under her black whiskers and was perfectly ushered over the Garden's green carpet by her handler Gabriel Rangel.
Sadie and Rangel had been there before. After winning the Terrier Group last year Sadie experienced a bout of nerves before the finals, mistaking the entry to the show floor for a dog run. Not so this year.
Asked what was different, Rangel said, "She learned the carpet, she knew the arrangement of the flowers." In other words, she knew the course.
Red Smith, the greatest of sportswriters, once opined that horse race players understood that when a horse of class achieved a sharp edge he (or she) would maintain it over extended competition, absent a sloppy track and given an adaptable trainer. Last night the Garden track was fast and Rangel was learned.
The finals competition was fierce and again, truly athletic. The Doberman CJ, winner of the Working Group, was stunning, hitting her marks without fail. The wonderful Puli named Conrad sent his dreadlocks into a rhythmic flounce while bouncing through his paces, insisting there was no reason a Puli could not win Best In Show for the first time.
The French Bulldog called I'm On Fire was -- in a city where French Bulldogs have proliferated like Bloomberg's meter readers -- won over the Garden crowd, insisting he not be extinguished that easily. He's only two years old, and I'm On Fire may be expected to return.

The Whippet, the Toy Poodle and the Brittany rounding out the final group of seven dogs were similarly special. But only one dog is anointed at the end of the evening.

Tuesday night belonged to Sadie.