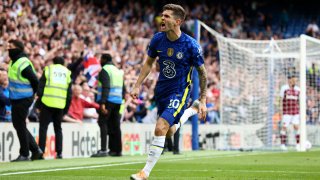 With the season nearing its finale, the top 20 soccer teams in England are jostling for league position with more intensity and added impetus.
For the leading teams, a top-four finish is important, as it automatically qualifies them for the UEFA Champions League, a tournament of Europe's top teams. Fifth place qualifies for the UEFA Europa League, a secondary European competition, while sixth place qualifies for the UEFA Europa Conference League.
The upcoming games could shake up the positions even further. Here's how to watch them and the full schedule and highlights.
At the bottom of the table, teams fight for survival as the bottom three teams in the league at the end of the season are relegated to the EFL Championship, the league below the Premier League. The top three teams in the EFL Championship are promoted to the Premier League to replace them.
Defending champion Manchester City are still at the top of the table, despite Liverpool trailing closely behind by one point. This set the stage for a decisive Sunday to end the season as the Blues take on Aston Villa and the Gunners host Wolves.
Chelsea, sitting in a distant third, are struggling to fend off Arsenal and Tottenham. Chelsea and Arsenal each have one match remaining over Tottenham, but it's undoubtedly shaping up to be a tight finish between these three clubs.
At the other end of the table, Norwich and Watford have been officially relegated after managing a combined 11 wins between the two clubs this season. Meanwhile, Leeds, Burnley and Everton -- separated by two points -- are in a three-way battle to avoid the third and final relegation spot.
Take a look at the full standings below: