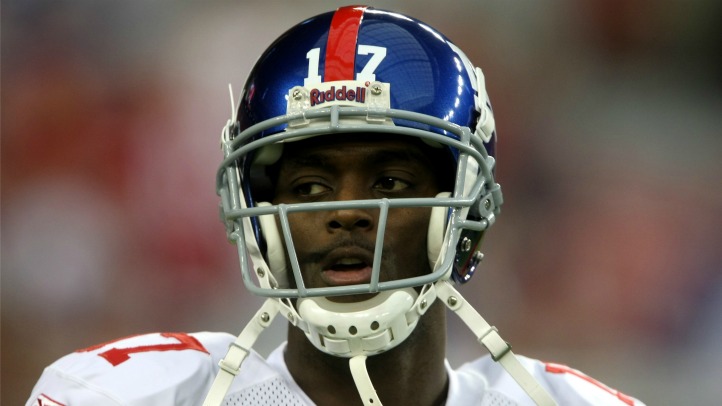 We knew that this was going to be a crazy week around the NFL, but we didn't know it would be quite this crazy.
Plaxico Burress, who seemed to suggest he'd like to play for every team in the NFL but the Giants since getting out of prison earlier this year, is expected to meet with his former employers on Friday to discuss a possible reunion. They spoke several times on Tuesday and planned to meet on Wednesday, but NFL rules prohibit such meetings between teams and unrestricted free agents until Friday.
The idea of a reunion is so unexpected that it even seemed to catch Burress unprepared. He told Mike Garofalo of the Star-Ledger about his plans for the sitdown with Tom Coughlin and others from the organization.
"I really don't know what I'm going to say," Burress said. "I'm just going to go in there ... and speak from the heart, be truthful with him and let him know how I feel. Whatever comes out is going to come out."
Garofalo pointed out that Burress has already said a lot about Coughlin, most of which could be construed as negative feelings harbored for the coach. Burress admitted as much, saying that he was telling the truth and that he looks forward to a face-to-face meeting with the man he clashed with several times during his tenure with the team.
He only clashed with Coughlin so many times because of his talent, however. A lesser player would have been cut the first time and an average one soon thereafter, but Burress was such a dynamic part of the Giants offense that he might still be part of the team if not for the shooting incident in 2008 that left Burress in jail for most of the last two years.
Burress was released last month after serving 20 months for illegally carrying and firing a gun at a Manhattan nightclub. He suffered a minor injury in his thigh.
Coughlin has never seemed all that enthused about the prospect of a Plax return, although several former teammates have been supportive of the idea. As mentioned, Burress hasn't been banging the drum either and has even suggested it might be best to make a clean start.
Familiarity can be tempting, though, and it is especially tempting in this abbreviated offseason. Burress knows the team, the system and the surroundings with the Giants much better than he knows anywhere else and that could make him a better bet for success right out of the gate.
As for the Giants, two possible reasons for their interest come immediately to mind. The first is that they are worried about the state of Steve Smith's knee after last year's injury and feel Burress would provide them with some needed insurance in case he can't make it back.
The other is that Burress's size and leaping ability could make him a dangerous target in the red zone. Hakeem Nicks and Kevin Boss, assuming he's re-signed, have done well in that role, but the addition of Burress would make it very hard for defenses to protect their end zone against the Giants.
There's always a chance that the Giants are just doing their due diligence so they can say they gave it a shot in case Burress signs and thrives somewhere else. That could have been accomplished by leaking word of phone conversations, however, and the meeting would seem to indicate that there's at least a willingness to see if there's a way to resume the working relationship.
It's a shame the Giants aren't on "Hard Knocks" this year because it would be quite interesting to hear the details of this conversation. We'll probably get some kind of report, but it won't be the same as seeing Plax and the coach attempt to build a bridge over their troubled waters of the past.
What's next, Tiki Barber?
Josh Alper is a writer living in New York City. You can follow him on Twitter and he is also a contributor to Pro Football Talk.
Copyright FREEL - NBC Local Media