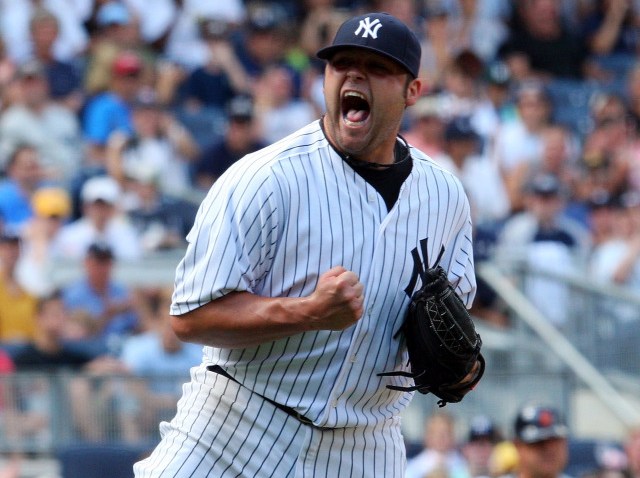 Did you ever go to a party in high school that was a little slow to get going? A couple of hours of just sitting around with your close friends, twiddling your thumbs and wondering where the real action was? And then, all of a sudden, people start streaming in. Good music's playing, a girl you like is making eyes at you from across the room and life couldn't be any better. Then, out of the corner of your eye, you notice a clock and see that your curfew is in 20 minutes and Dad's a real stickler for the rules.
If that sounds familiar to you, you can empathize with the position Joba Chamberlain finds himself in on Thursday morning. Finally, after two years of inconsistency, questions and waiting everything has come together for the right hander. Eight shutout innings on Wednesday in Tampa mean that he's allowed two runs in 21 2/3 post-All Star innings while striking out 19 batters.
It's been fun to watch Joba take ownership of all his talents and dominate big league hitters because it always felt like it was just beneath the surface. And it looks like Joba's having fun out there, working fast and not arguing with Jorge Posada as he just rears back, trusts his stuff and lets it fly. The Yankees aren't looking for a big addition before the trade deadline, because that's exactly what they got when Chamberlain returned from the break.
And, yet, out of the corner of your eye there's that clock and the impending curfew. Chamberlain's up to 110 innings now, and there's a limit, believed to be around 150-160, that threatens to turn this into a pumpkin at some point before the year is out. If that upper cap is right, even if the Yankees use off days to skip him, Chamberlain might not get through August without scraping the ceiling. That's leaving just when it's getting good, and that's a shame.
So what do the Yankees do? Do they play strict parent or cool parent who lets their kid stay out late no matter the consequences?Given the long future they hope to have with Joba, the guess is that they play it strict and try to cobble together extra rest with the help of other pitchers as long as it doesn't threaten their spot in the playoffs.
That's the biggest difference from the high school scenario, though. When you left that party, it went on and you had to hear about everything you missed the next day. If Joba has to duck out early, the party just might go with him.
Josh Alper is a writer living in New York City and is a contributor to FanHouse.com and ProFootballTalk.com in addition to his duties for NBCNewYork.com.
Copyright FREEL - NBC Local Media