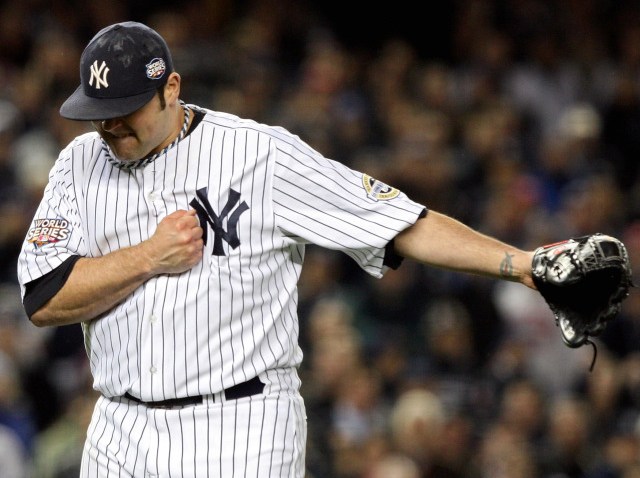 Yankees pitchers and catchers reported for work on Wednesday, but we all know that Yankees Spring Training isn't officially underway until someone proposes changing Joba Chamberlain's role on the pitching staff. Usually that person is a columnist or a radio host, but now a pretty prominent member of the Yankee family is weighing in with what sounds like a big change in organizational thinking.
Pitching coach Dave Eiland spoke with John Harper of the Daily News and hit all the pro-bullpen talking points in short order.
"I think we've all seen the difference in him when he starts and relieves ... if he wants to be a starter for us, he has to have the same mound demeanor, the same aggressiveness, and repeat his delivery as a starter the way he does as a reliever ... He's got to be an aggressive, come-right-at-you, power-type guy. Sometimes when he started he'd fall behind, he'd try to show all his pitches. Yes, he does have four pitches but he doesn't have to use them in every at-bat."

We really thought we were through with all of this. All the bold pronouncements about the end of the Joba Rules and the lifting of any innings limit seemed to serve notice that Chamberlain would be a starting pitcher without having to worry about constantly shifting views about how to utilize his skills. The whole point of that exercise was to prepare Joba to be a starting pitcher, so it makes little sense to suddenly throw two seasons in the trash.
Much of what Eiland says about Joba's performance as a starter and a reliever is true, but it ignores the starts he made in 2008 when it looked quite clear that he was capable of being a strong starting pitcher over the long term. Last season, especially the second half of last season, turned into a mess as the team tried to get him through the season by pitching him differently than any other starting pitcher in memory.
It may just be that Eiland is trying to challenge Chamberlain to get the maximum out of him this season. That's a pretty sound strategy, a lot sounder than dramatically shifting course with a pitcher you've spent three years training for the chance to let him loose this season.
Josh Alper is a writer living in New York City and is a contributor to FanHouse.com and ProFootballTalk.com in addition to his duties for NBCNewYork.com.
Copyright FREEL - NBC Local Media