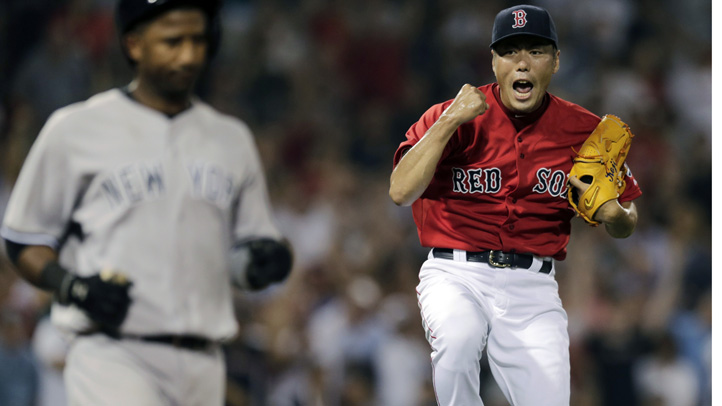 Jacoby Ellsbury and Johnny Gomes homered, and Felix Doubront outpitched Andy Pettitte on Friday night to lead the Boston Red Sox to a 4-2 victory over the depleted New York Yankees in the opener of their three-game series.

Ellsbury homered on Pettitte's second pitch of the game, and Gomes made it 3-0 in the second.

Doubront (7-3) held a Yankees lineup without Derek Jeter and a handful of other regulars hitless until Lyle Overbay doubled to lead off the fifth inning.

In all, the Red Sox left-hander gave up two runs — one earned — and three hits and three walks while striking out five in 6 1-3 innings. It was the 12th consecutive start in which Doubront has allowed three or fewer earned runs.

Koji Uehara pitched the ninth for his ninth save.

Pettitte (7-7) gave up four runs on six hits and a walk, striking out four in 6 1-3 innings.

The Yankees made their first visit to Fenway Park this season for the first game after the break, and Robinson Cano played three days after being hit on the knee by a pitch in the All-Star game. But the lineup barely resembled the team New Yorkers thought would be wearing pinstripes at this point in the season.

Jeter was placed on the disabled list before the game — he's spent all but one game there this season — and the Yankees are also missing third baseman Alex Rodriguez, first baseman Mark Teixeira (wrist surgery), outfielder Curtis Granderson (broken pinkie) and catcher Francisco Cervelli (broken hand).

The lineup was further depleted when left fielder Zoilo Almonte came out of the game in the fifth inning with a left ankle sprain; X-rays were negative.

And center fielder Brett Gardner took himself out when, after being called out on a 3-2 pitch to end the top of the fifth, he slammed his helmet on the ground and was ejected by home plate umpire Mike Everitt.

That left the Yankees ill-equipped to come back after Boston took a 3-0 lead on the homers.

New York made it 3-1 when Gardner walked, stole second and scored when he stole third and catcher Jarrod Saltalamacchia's throw went into left field. Chris Stewart doubled home Overbay in the fifth to cut the deficit to one run.

The Red Sox added a run in the seventh, then Ichiro Suzuki singled over the shortstop's glove and Cano doubled to put runners on second and third with one out in the eighth.

But Craig Breslow got Vernon Wells to fly out weakly to short and Luis Cruz grounded to shortstop; Jose Iglesias' throw pulled first baseman Mike Napoli off the bag, but he made the tag for the third out.

Copyright AP - Associated Press