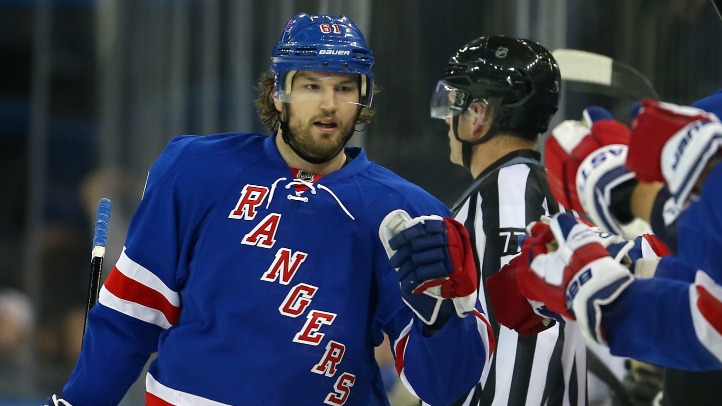 If there was a way to go back in time to show a skeptical Ranger fan why the trade for Rick Nash was a good idea, Tuesday night's 4-2 win over the Flyers would be the game to show them.
Through two periods, the Rangers and Flyers were tied at two and the game looked destined for overtime. Ryan Callahan had fought his way to a pair of goals, but the Rangers' penalty kill had struggled and it was a throwback to last season when the Rangers would grind a game as far as it took to take two points.
Last year's team didn't have Nash, though, and that's what makes the Tuesday win the game to use as evidence of the reason the Rangers tore up their depth to get him in a trade with Columbus. He'd take the game over in the third period to send the Rangers home with a win.
Following a save by Henrik Lundqvist, Dan Girardi feathered a pass to Nash up the right wing and Nash broke into the offensive zone with room to space and a sliver of day light on the far side of the Flyers net. He hit the sliver dead center, breaking the tie and making the Garden explode with noise.
Silence took over a few minutes later when Marc Staal took a puck to the eye in a scary moment that is sure to revive the debate about mandatory visors on helmets since Staal wasn't wearing one and left the ice with blood gushing everywhere. A gloom hung over the game for several minutes, with even the players seemingly holding things back in a couple of cases, and then Nash struck again.
He beat Ilya Bryzgalov with a nifty little move in front of the net to open up a two-goal lead and again send the Garden to its feet. Staal's condition is something to monitor, but Nash's performance was something to savor and that's just what the crowd did after he put the game on ice.
All seven of Nash's goals this season have come in the third period, a remarkable statistic that explains why it feels like Nash only scores goals of great magnitude. And it also explains why a buzz shoots through the Garden any time the puck winds up on Nash's stick at a key juncture in the game.
If our hypothetical skeptic of the past had seen those goals and hear that crowd from Tuesday night, it's hard to believe that they would have any objection to Nash joining the Rangers. There's even a fair chance that they'd be promoting Nash for Mayor, which is something that still could happen if there are more third periods like that in his future.
Josh Alper is also a writer for Pro Football Talk. You can follow him on Twitter.
Copyright FREEL - NBC Local Media