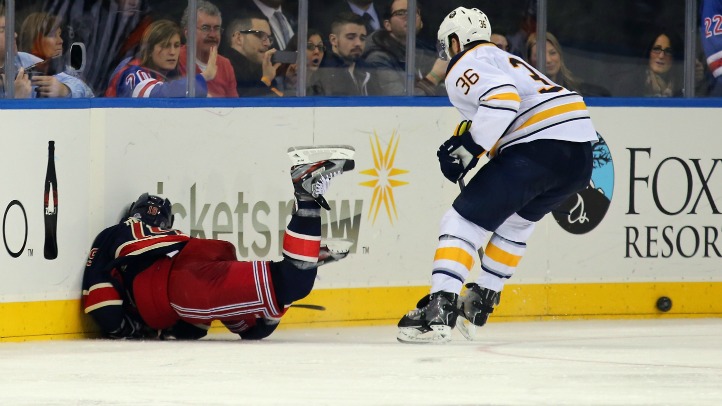 There were plenty of times in the first 19 games when we wondered if the Rangers were ever going to show up with the requisite nerve and fight this season.
For the first two periods of their Sunday night date with the Sabres, we wondered if they were going to bother showing up at all. It wasn't a sleepy affair at the Garden, it was downright comatose and it seemed as if the Rangers were going to doze right through a chance at taking home two crucial points.
And then Patrick Kaleta tried to turn Brad Richards' face into a permanent part of the boards with a scary hit that left Richards in a heap on the ice. The referees rightly called it a major penalty (a suspension should follow, although one has to be careful using common sense when it comes to the NHL) but the question was whether the Rangers would respond to a team taking such egregious liberties.
For what felt like the first time all year, the answer was yes. Derek Stepan and Rick Nash scored on the ensuing power play to give the Rangers a 2-1 lead and the Rangers went from half-dead to crackling with energy for the rest of the game.
It would take a shootout and an alert Henrik Lundqvist save after a near-disaster by Nash in overtime, but the Rangers wound up 3-2 winners in a game that looked awfully close to the kind of disappointing losses that have marked their season right up until Richards got pancaked.
Richards was able to return to the game, so it feels a little less creepy to say that the hit might have been the best thing to happen to the team. The spark was not there and it is hard to imagine it would have shown up if the two teams had just stuck to the script of skating around in an attempt to let the 60 minutes run out as painlessly as possible.
After that, though, the Rangers fought. They killed penalties, took the body and went after goals with an abandon that they had seemed to abandon at some point early in the season.
And, perhaps more importantly, they found an edge to their game that was omnipresent last year and, it seems, taken for granted that it would be here this year. It hasn't been and the Rangers have often looked lifeless on the ice as a result.
The edge returned Sunday night. Now the Rangers need to find a way to bring it to the table without first needing to see one of their teammates' faces implanted on the boards.
Josh Alper is also a writer for Pro Football Talk. You can follow him on Twitter.
Copyright FREEL - NBC Local Media