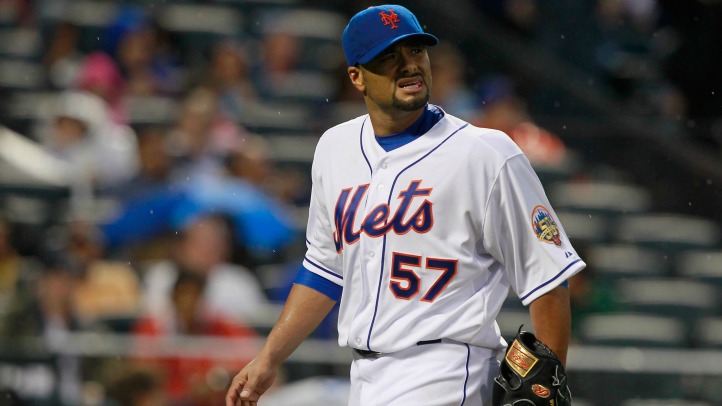 As bad as things got for the Mets last season, they had two things to cling to as sources of joy.
There was R.A. Dickey knuckleballing his way to a Cy Young and there was Johan Santana throwing the first no-hitter in the history of the Mets franchise. These being the Mets, there were no happy endings to these feel-good stories, however.
Dickey is seeing what the Canadian air does to a knuckler and Santana is now quarreling with the Mets after Sandy Alderson made it clear that the team thought Santana failed to show up in good enough condition to pitch when he arrived in Port St. Lucie. It was a strange little dance that Alderson decided to do as he went the passive aggressive route when asked if the team was disappointed by claiming they weren't while using indignant words like "self-evident" to describe Santana's shoddy condition.
Santana has reacted petulantly by refusing to speak to reporters, which leads one to believe that Santana never heard the "don't" in the old rule of thumb of "don't blame the messenger." He did throw off the mound on Sunday, something that went well and made it even harder to understand why things went this route.
Alderson and Terry Collins have both said that the team doesn't feel Santana's arm is in a bad way, which makes you wonder why they'd choose to pick a battle about his overall conditioning after an offseason devoted to making sure his left arm was right. Santana's rehab was overseen by the team, even if they claim not to micromanage their players, so there was no reason for them to be taken by surprise when he arrived in Florida.
Santana has played hurt or tried to play hurt multiple times during his Mets tenure and, quite likely, did himself more damage as a result of those efforts. For the Mets to choose this moment, one that represents the beginning of the end of the last player inextricably linked to the Omar Minaya days of big spending (and big hoping, although no one likes to remember that part of the equation) that died with Bernie Madoff, Jason Bay and swaths of empty seats at a brand new stadium.
While we can understand the desire to fully cut ties to that era and a relationship with Santana that wasn't quite as bathed in glory as the Mets would have liked, there's really no reason to create animosity with Santana. There's absolutely no gain to realize from pushing Santana and it only serves to make the franchise look petty given everything that Santana has struggled through just to make it back to the mound.
Unhappy endings have a way of finding the Mets all on their own, which makes it much harder to figure out why they're trying to conjure one up out of thin air when it comes to Santana.
Josh Alper is also a writer for Pro Football Talk. You can follow him on Twitter.
Copyright FREEL - NBC Local Media