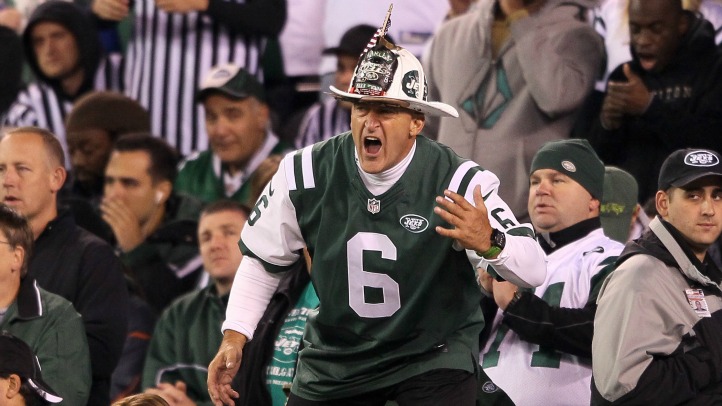 You know you've reached the nadir of a season when your head coach is issuing comments at press conferences about a fan deciding to stop coming to games.
That's just what Rex Ryan did on Monday, though. Fireman Ed has had enough of being in an increasing number of confrontations that are, in Ed's words, "an indication of how society has lost and is continuing to lose respect for one another."
Reasonable people are free to disagree on how enjoyable they find Fireman Ed's act, Ryan cited his passion on Monday, but the larger issue here isn't so much about who will lead the J-E-T-S cheer after the Jets score at home. And it's only a little bit about whether or not they are actually going to score at home again this year at all.
It's about the dreaded circus, which the Jets have argued does not exist, finally and undeniably coming to town, unloading its elephants and erecting tents for its three rings. The football part of things pretty much ceased to exist when Mark Sanchez did his Looney Toons sprint into Brandon Moore's posterior on Thanksgiving night.
From here on out it is going to be about Fireman Ed "retiring" from the team, empty seats and/or increased hostility at home games and the myriad issues of internal indigestion the team will have to work its way through to move beyond this season. There are so many that we can't begin to guess which one will play the biggest role.
Will it be Ryan's future? Barring a total collapse over the next five weeks, which certainly can't be ruled out, it doesn't seem like Ryan is headed for the unemployment line just yet.
That makes general manager Mike Tannenbaum's head a more likely target. The attention paid to the bluster and the quarterbacks can only deflect so much attention from the fact that talent, young talent in particular, is in very short supply on this Jets team.
Tannenbaum may skate with a change in responsibility should the Jets bring in someone over his head, but offensive coordinator Tony Sparano probably won't be so lucky. The lack of production could have been predicted coming into the season, but the team has actually regressed as the year has moved along.
Making a change there would make three offensive coordinators in three years for Sanchez, which is less than ideal but, then, so is Sanchez. His future will be hotly debated in the coming weeks, likely alongside heaping helpings of mockery at the Jets' decision to trade for Tim Tebow's drama while refusing to make use of Tim Tebow's football skills.
Other things will probably pop up because, with the Jets, other things almost always seem to pop up. If those things had anything to do with football, it would be the most surprising development of all. It's all about the circus and that started with the clowns last Thursday night.
Josh Alper is also a writer for Pro Football Talk. You can follow him on Twitter.
Copyright FREEL - NBC Local Media