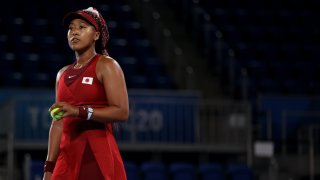 Tennis star Naomi Osaka teared up and briefly left a tournament news conference Monday after questions from a Cincinnati Enquirer journalist about her relationship with the media.
Osaka, the second-ranked tennis player in the world, has said she has anxiety about dealing the media and withdrew from the 2021 French Open in May, after her decision not to do media interviews to prioritize her mental health.
The questioning began with, "You're not crazy about dealing with us, especially in this format, yet you have a lot of outside interests that are served by having a media platform. I guess my question is, how do you balance the two?"
Osaka took a moment and a moderator offered to move on before the athlete said she was interested in exploring the question. Ultimately, the tennis star said she was not sure.
Read the full story on NBCNews.com.