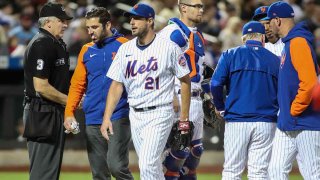 Max Scherzer initially thought he avoided a serious injury when he exited Wednesday's game. Not quite.
The New York Mets announced Thursday that an MRI revealed Scherzer suffered a moderate to high grade internal oblique strain that will cause the 37-year-old pitcher to miss the next six-to-eight weeks.
Scherzer removed himself in the sixth inning of his start on Wednesday after his 87th pitch, signaling to the dugout and saying, "I'm done."
"Just felt a zing on my left side and just knew I was done," he told reporters after the game. "When I felt it, I just knew there's no way you can throw another pitch. So, just get out of there."
"I don't think this is a major strain," he added at the time. "I was kind of tight and then all of a sudden, it went. But I don't feel like I really ripped it. It just got worse. Hopefully, I got out of there quick enough to prevent a major, major injury here. I know obliques and intercostals, those things can be nasty. Hopefully, I avoided a serious injury."
Scherzer, who signed a three-year, $130 million deal with the Mets in the offseason, is 5-1 with a 2.54 ERA in eight starts this season.
The injury further decimates the Mets' starting rotation. The team is already without two-time Cy Young Jacob deGrom, who has yet to pitch this season due to a shoulder injury, and Tylor Megill, a second-year pitcher who was 4-1 with a 2.43 ERA before he allowed eight runs to the Washington Nationals and was placed on the injured list with biceps tendinitis.
The Mets, atop the NL East at 25-14, currently own the third-best record in baseball.