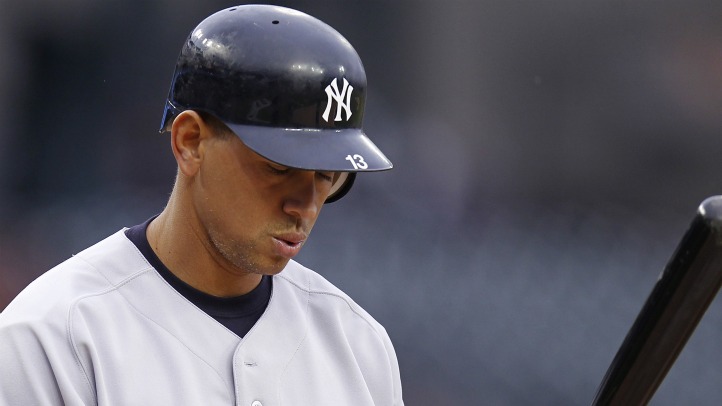 The Yankees have been playing like a team that wants to lose baseball games for the last few days, but their flirtation with danger caught up with them for the first time on Tuesday night.
Three brutal baserunning mistakes helped keep the team from putting runs on the board and contributed mightily to a 4-2 loss in Detroit. CC Sabathia wasn't particularly sharp on the mound and Alex Rodriguez is officially slumping, but the game was still winnable if the Yankees weren't so insistent on making the kinds of mistakes that no professional team should be making.
Andruw Jones was thrown out at the plate by about 25 feet while trying to score on a fly ball to right field in the fourth inning. It was the kind of play that you'd normally be able to shrug off as a bad decision, but you can't really do that for a member of a Yankee team that makes more bad choices than a drunk teenager on prom night.
The Jones play set the stage for a brutal sixth inning when Robinson Cano and Jorge Posada were both caught napping off first base for outs that killed a scoring chance. Cano hesitated when a ball briefly got away from Tigers catcher Alex Avila, a bout of brain freeze that shouldn't happen to any veteran player.
Posada's mistake is even harder to understand. It looked like he was trying to steal second base with two out and two strikes on Jones, a move that makes little sense when you remember that Posada runs as well as an elderly man with two broken legs and a raging case of emphysema.
He's a legendarily awful base runner so perhaps we should just concentrate on the fact that he had a two hit night and be happy he found his way on base before making a rally-killer of an out. That's a positive sign, although it says much about how low the bar is for Posada right now that a couple of hits mitigate total stupidity on the basepaths.
Speaking of jumping low bars, Derek Jeter hit a pair of line drives on Tuesday night. That seems relatively insignificant, especially since only one of them resulted in an actual hit, but Jeter only had eight line drives all season entering the game.
This remarkable change of fortunes didn't stop the Times from putting a story about Jeter's foibles on A1 below the fold and below the latest developments in the fallout from the raid on Osama Bin Laden's Pakistan hideaway. Variations on the story are getting written everywhere and it doesn't take binoculars to see the feeding frenzy making its way to the Captain.
He could forestall that frenzy by talking about his struggles or even volunteering to drop down in the lineup until he finds his stroke, but that isn't the kind of person that Jeter has proven himself to be over his career. That's not a knock, he comes by his confidence and pride honestly, but it will be just as difficult for the Yankees to survive with him as an albatross as it will be for them to survive while continuing to play the game like the worst team in the local Little League.
Josh Alper is a writer living in New York City. You can follow him on Twitter and he is also a contributor to Pro Football Talk.
Copyright FREEL - NBC Local Media