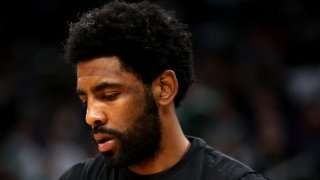 WATCH: Kyrie Irving gives middle finger to TD Garden crowd originally appeared on NBC Sports Boston
Days after Kyrie Irving said that he hoped fans could reflect on some of the highlights he left at TD Garden, the former Celtics point guard certainly created another memorable highlight for fans to remember when he appeared to flip his middle finger in the third quarter of Boston's postseason-opening win against the Brooklyn Nets.
You can watch the moment here.
Irving had a second bird-flipping incident during the game as well. In a video captured by a fan sitting courtside, Irving flashed both of his middle fingers behind his head to the heckling crowd.
In his postgame press conference, Irving said the gestures were in response to fans shouting obscenities at him.
"It's the same energy they have for me, and I'm gonna have the same energy for them," Irving said. "And it's not every fan. I don't want to attack every Boston fan. But when people start yelling, 'p****' or 'b****' and 'f*** you' and all that stuff, there's only so much you can take as a competitor.
"We're the ones who are expected to be docile and be humble and take a humble approach. Nah, f*** that. It's the playoffs.
"I know what to expect in here and it's the same energy I'm giving back to them. It is what it is. I'm not really focused on it. It's fun. Again, where I'm from, I've dealt with so much, so coming in here, you relish it as a competitor.
"I'm gonna keep repeating myself: This isn't my first time at TD Garden. So what you guys saw and what you guys think as entertainment or fans think as entertainment -- all is fair in competition. So, if somebody's gonna call me out on my name, I'm gonna look at them straight in the eye and see if they're really about it. Most of the time, they're not."
Irving was booed mercilessly prior to tipoff of Game 1 of the Eastern Conference quarterfinals, a trend which is sure to continue for as long as this series goes ... and for as long as Irving continues to visit TD Garden as a visitor, be it for the Nets or another team down the line.
To Irving's credit, he had a performance for the ages in Game 1, dropping 39 points on 12 of 20 shooting on the Celtics. Still, it wasn't quite enough for the Nets to secure the win.
Copyright RSN