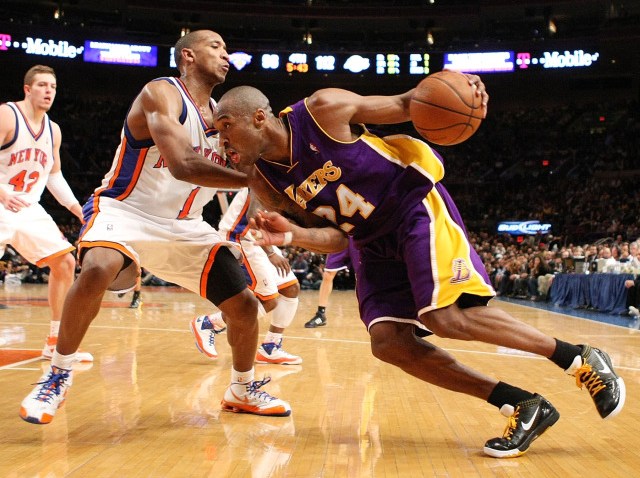 The crowd was chanting "MVP" in between standing ovations for the player crafting a masterpiece on the court. The Madison Square Garden scoring record set by Bernard King was put in the dustbin of history and the holder of the new mark basked in the adulation of the crowd. It was all a perfect scene as long as you ignore the fact that the Knicks lost and the new scoring champ was Kobe Bryant.
So much for the Garden being a tough place for a visitor to play. Yes, it's a bright, basketball savvy crowd that understands and enjoys the game outside of Knicks wins but this was too much. A polite hand and respectful admiration of a job well done is one thing, but the wet, sloppy kiss the crowd placed on Bryant mostly illustrated how bad things have gotten for the home team.
But those were the loser Knicks of 2008-2009! This year the Knicks are in the playoff mix and showing improvement, surely that won't happen again you damned cynic! How soon we forget, how soon we forget.
The Knicks were 17-24 at the halfway point of last season, the same record they have right now, and they were 21-25 entering the Lakers game. That game actually set off a six-game losing streak and sent the Knicks on their way to a 3-10 month that ended any illusions of the postseason. In other words, the Knicks fans were rooting against a team that looked a lot like the one that will take the court tonight.
Will history happen again? The points record seems a lot less likely to fall now that the Knicks have gone from cheetah to hippo in the pace department, but you can never count out a player as talented as Kobe. Will the crowd act like they're on Hollywood and Vine instead of 33rd and 7th? Hopefully not, but it's hard to tell how much traction the current Knicks have gained with the large group that's been forced to look elsewhere for basketball heroes thanks to Scott Layden, Isiah Thomas and Jim Dolan.
Josh Alper is a writer living in New York City and is a contributor to FanHouse.com and ProFootballTalk.com in addition to his duties for NBCNewYork.com.
Copyright FREEL - NBC Local Media