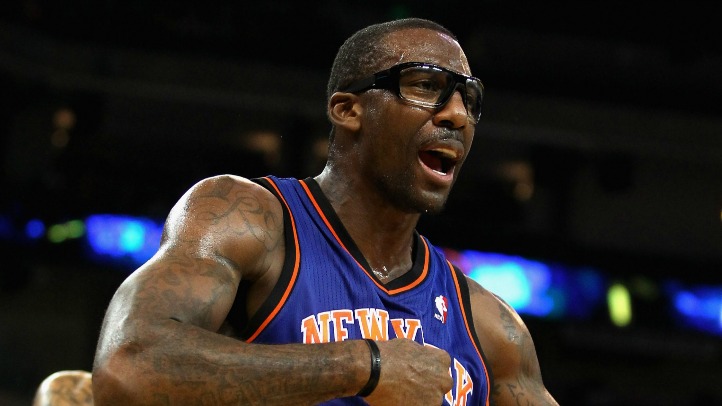 The Heat are in the air and on their way to New York for Friday night's game at Madison Square Garden, so it looks like the season will tip off with a delay of just one day.
We can debate the wisdom of the decision to play a basketball game in the middle of a city that's only starting to get close to back on its feet after the devastation of Sandy. Waiting until Sunday seems like a much better idea, but the NBA disagrees and that's their choice to make.
So we'll turn our attention to basketball and away from the cleanup to ask one of the burning questions of this Knicks season. What in the world are they going to do with Amar'e Stoudemire?
Like just about every other Knicks injury in recent memory, the initial timeline given for Stoudemire's recovery was wildly off and a two week absence is now looking like a two month delay in the start of Stoudemire's season. The general reaction to this news hasn't been particularly negative as Knicks fans dream about Carmelo Anthony running power forwards off the floor while playing the four and just about any able-bodied alternative providing defense that Stoudemire has long been incapable of bringing to the court.
In short, it's pretty much the way Yankee fans would respond to the news that Alex Rodriguez was going to miss the first two months of the 2013 season. If the player you signed was hurt, it would be a problem, but this other thing that they have morphed into more recently isn't going to be missed any more than you'll miss the run of daily press conferences about the efforts to get our area fully up and running.
The biggest differences between the two is that A-Rod's eventual return from an injury has been made easier by the way Joe Girardi handled things in the playoffs and that the Yankees have no salary cap constraining their ability to make other moves to replace A-Rod. Stoudemire is not tradeable, he's either the unluckiest sap in town or his health is deteriorating rapidly and the Knicks cant do a thing about it until after next season when Stoudemire's expiring contract could become appealing.
So the Knicks don't have much choice but to try one more time to figure out a way to make Stoudemire, Anthony and all the rest of the puzzle pieces fit without the benefit of long practice time to help them find the chemistry that's been missing since Melo came to town. That presents all kinds of potential problems.
If Stoudemire returns to his old starting role and the offense stagnates, it won't be possible to move him back out of that role without creating a firestorm. If Mike Woodson decrees he goes to the bench while Kurt Thomas retains a starting role, you risk getting a pouty Stoudemire who won't even help the team as a scorer on the second unit.
If the Knicks are winning without Stoudemire, you risk his return being the flashpoint for a downturn and such things get blown out of proportion daily in New York. If the Knicks aren't winning when he returns, well, that one won't be on Stoudemire but it will be awfully ugly.
This is about the half-emptiest glass in the history of glasses, so it must be said that there is obviously a chance things break the other way and Stoudemire returns in better shape with renewed purpose to help the Knicks climb to the next level. That's the dream, obviously, but it is one that feels just as far out of reach as every one of the fastballs A-Rod flailed at before being shown a seat on the bench.
Managing Stoudemire's return could well wind up determining the end result of this Knicks season. The impossibility of knowing what exactly that will take is something that will keep Knicks fans from feeling comfortable until Christmas lights have gone on in Lower Manhattan.
Josh Alper is also a writer for Pro Football Talk. You can follow him on Twitter.
Copyright FREEL - NBC Local Media