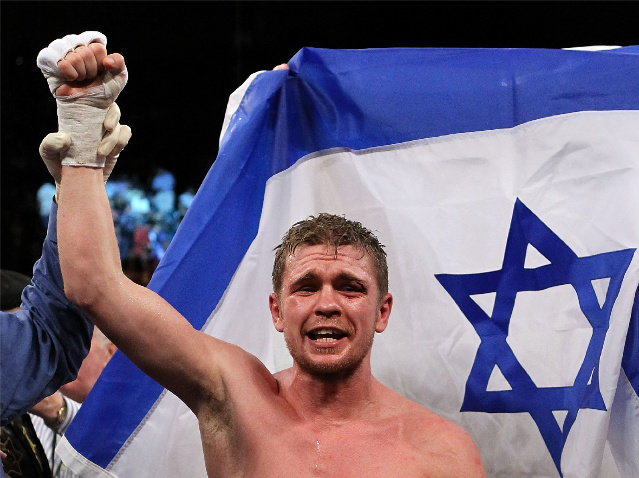 Yuri Foreman surprised many observers when he won the WBA light middleweight title with a knockout over Daniel Santos in November. No one enjoyed the upset more than the Jewish community of New York, of which Foreman is both a member and a hero for achieving such a lofty position in a sport that hasn't seen many Jewish champions in recent history. That's why it's funny that he may not get to make his first defense in his preferred locale because of members of that very community.
Foreman hopes to fight former welterweight champ Miguel Cotto at Yankee Stadium in June 5th, but a bar mitzvah might stand in the way of making that happen. A 13-year-boy's big day is scheduled for the stadium on that date and, according to Foreman's promoter Bob Arum, the scheduling conflict may make it impossible for the fight to happen at the Stadium. Among other things, part of the deal is that the bar mitzvah gets use of the stadium's video boards.
While there's certainly something to be said of a championship fight taking place in front of video of Aunt Sylvia dancing the Hora, that situation isn't going to fly. We think something can be worked out here, though. What better way to cap off a day of celebrating your faith than watching a young rabbinical student fight to hold onto a strap against tough competition in a cool venue?
How many kids get to say that 50,000 people were at their bar mitzvah? You probably couldn't force them all to bring gifts, but it never hurt anyone to ask. The choice of venue speaks to a familial enjoyment of sports in the first place, so it seems like a no-brainer even before you take into account Foreman's religious beliefs. Heck, you could probably even figure out a way to get Foreman to participate in the ceremony.
If the conflict can't be worked out, the fight would be in Madison Square Garden on June 12th. That's the night before the Puerto Rican Day parade, which would make for quite a scene at the old arena. Cotto is from Puerto Rico and traditionally fights at the Garden that night in front of passionate partisans. Foreman would ensure a healthy dose of fans on the other side, which would create a memorable scene and a memorable night.
Think about how much bigger and how much better that scene would be if it played out in front of tens of thousands more people at the ballyard in the Bronx? It would be great for boxing, great for the Stadium and one helluva bar mitzvah party.
Josh Alper is a writer living in New York City and is a contributor to FanHouse.com and ProFootballTalk.com in addition to his duties for NBCNewYork.com.
Copyright FREEL - NBC Local Media