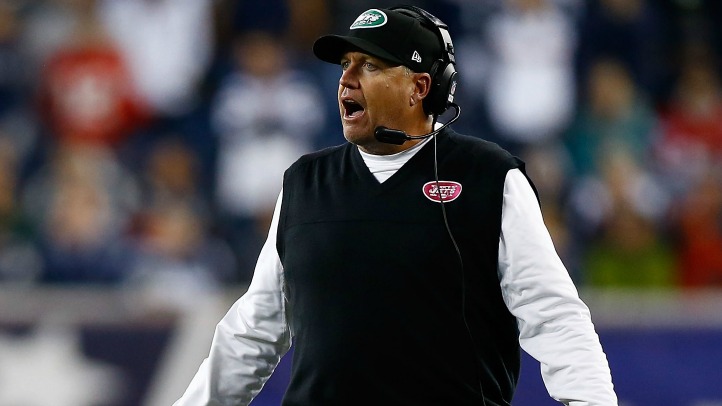 Jets coach Rex Ryan hammered a pair of points during his Monday press conference.
The first was that the Jets have improved a great deal over the three weeks since they had their heads kicked in by the 49ers.
"I know we're a better team. We had to improve as a football team and we did. I see us getting better. We have a ways to go to get to where we want to get to, but you see it. We're making strides. It's not by luck, or anything else, it's by design," Ryan said, via comments distributed by the team.

"The way guys have approached how they are in the classroom, how they are on the practice field, you see it carrying over. We still have a ways (to go). We're not where we need to be yet. We have to keep working hard and start winning games like this."
Hard to argue with the opinion that the Jets have trended in the right direction, although the suggestion that it matters much when you've lost two of the last three games is one that's a little better placed in youth sports than the professional game. Ryan closed by saying the team needs to start winning these games, which brings us to the coach's second point.
Ryan and the Jets have been heavily criticized for their play calling after recovering Devin McCourty's fumbled kickoff with 2:01 to play in the game. They ran the ball twice and then had Mark Sanchez roll out to throw to Jeremy Kerley, a play that failed when Kerley slipped out of his break and Sanchez got sacked.
They then played a zone against Tom Brady as the Patriots marched back down the field, something that fed critics who claim the Jets played scared at the end of the game. Ryan does not agree with that assessment.
"I think saying we played scared is somebody who has probably never played the game in his life," Ryan said. "That's a ridiculous comment. That's certainly not what we do."
Saying they played scared is ridiculous and is just going for the jugular when a rap on the knuckles would suffice. The Jets weren't scared, but they weren't aggressive either and, even more troubling, they still don't seem to have a sense of themselves offensively.
That final offensive series started with a Tim Tebow plunge (the only play Tony Sparano ever calls for Tebow) that took the game to the two-minute warning. The Jets had an earlier drive that saw Sanchez hit 9-of-10 passes including a touchdown to Dustin Keller and their previous drive might have ended much differently had an open Stephen Hill not made an inexcusable drop on third down.
Sanchez was rolling, in other words, and the clock was going to stop after the first play because of the two-minute warning regardless of what play the Jets decided to call. So why not take a shot with the horse that brought you instead of calling a predictable dive play with a guy who everyone in the building knew would be running a dive play?
It was just as counter-intuitive when the Jets called a slant out of the shotgun that fell incomplete on third-and-two from the Patriots' three on their first possession of the third quarter. At that moment, the run game was rolling and it seemed a perfect opportunity to use Tebow's ability to barrel through defenders for short and fruitful gains.
The fact that those two decisions were made by the same coaches is the hardest thing to figure out about the Jets right now. You have enough faith in Sanchez to call his number early but not late, while feeling the exact opposite about Tebow, whose presence on this team is more obviously the result of Woody Johnson's desire for attention than anything done by the team's football decision makers.
The Jets say that they don't lack faith in Sanchez, who ripped up the Patriots with throws to Kerley and Dustin Keller on Sunday, and that they have it in Tebow as well. Their decisions make it hard to figure out if that's true, even after you acknowledge that no one would be complaining about these choices if Joe McKnight broke free for a game-sealing first down on second down of the final drive.
One of the hallmarks of the Brian Schottenheimer era was the offense's consistent attempts to zig when they thought the defense expected them to zag. Things were supposed to be more straightforward this year, with the Jets emphasizing what was working over some attempt to look like the smartest guy in the room.
Different situations call for different plays, obviously, but one common thread throughout the NFL is that good teams keep attacking weaknesses until their opponents prove they can stop the attacks. The Jets didn't do that on Sunday, which felt less like fear than it did doubt about the kind of football team they are at this point in the season.
Josh Alper is also a writer for Pro Football Talk. You can follow him on Twitter.
Copyright FREEL - NBC Local Media