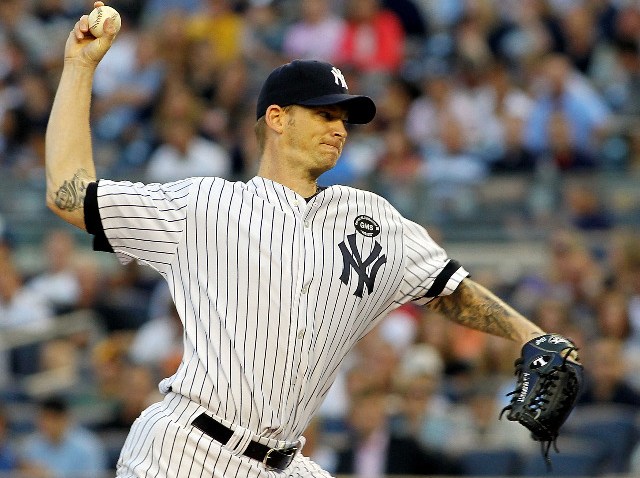 On Tuesday night, the Yankees finally broke the long cycle of shared results that kept them tied with the Rays and moved back into sole possession of first place in the American League East to start September.
All things considered, it's a pretty good spot for the team to find itself. They opened August with a 1-4 mark, saw players fall out of the lineup because of injury and watched their starting rotations struggle more often than not before winding up with a 16-13 record for the month. That's a nice job of perseverance and its one that won't be easy to pull off a second time.
After the Yankees finish up with the A's on Thursday, they'll have 28 games to play before the end of the season. Six of those games are against the Orioles and the Yankees had better take care of business against them because there aren't many other breathers along the way. They have six games with the Blue Jays, who are out of the race only because they play in a brutal division. They have three games with the Rangers, a team they are likely to see come October. And then there are the main events.
Six games with the Red Sox, including three games to end the season at Fenway Park and, most important of all, seven games with the Rays. Even with the Red Sox looking like they are finally out of gas after hanging around much longer than anyone thought possible given their injuries, that's not a schedule with many opportunities for a nap. Or bad starts.
Which brings us to the man who kicks off the final month (and change) of the 2010 season. The Yankees have to hope that simply flipping the calender makes A.J. Burnett a more successful pitcher. Sounds laughable, but it actually happened once this season. After spending all of June getting strafed, Burnett threw 6.2 shutout innings in his first July start on the way to a strong month. No big changes or adjustments for Burnett on the mound were to blame, which must mean it has something to do with the moon or the sun or whatever changes when a new month gets underway.
Burnett's hardly the only guy on the spot but a good start Wednesday night would do quite a bit to make everyone breathe a little easier about the hard road ahead.
Josh Alper is a writer living in New York City and is a contributor to FanHouse.com and ProFootballTalk.com in addition to his duties for NBCNewYork.com. You can follow him on Twitter.
Copyright FREEL - NBC Local Media