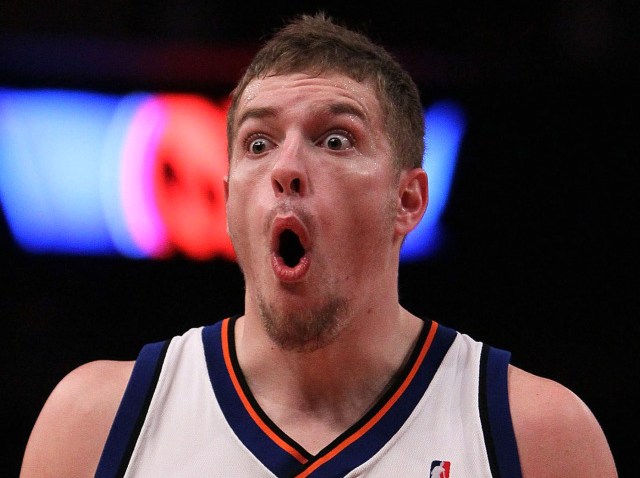 For those of us of a certain generation, the notion of a Knick making the All-Star team isn't so hard to believe. Patrick Ewing was a regular visitor to the midseason games, Allan Houston made it a couple of times and even guys like Mark Jackson and John Starks played in the big game. For a whole generation of New York youngsters, though, the idea of an All-Star coming from the Knicks makes about as much sense as a rotary dial phone.
It was 2001 when Houston and Latrell Sprewell took part and it's been a long walk in the desert since then. Given the attention span of your average four-year-old, that means there are plenty of 13-year-olds who have no memory of what it looks like to see a local boy playing with Kobe, Garnett and the rest of the NBA elite.
Wait no longer dear child. David Lee is the chosen one. Allen Iverson won't be making his undeserved trip to Dallas and David Stern tabbed Lee to take The Answer's place in Sunday's game. There were other strong choices, such as Josh Smith of Atlanta, but Stern is based in New York and savvy enough to know that the bone he's throwing is one that Knicks fans are glad to receive. There are already two Hawks on the team, after all, and Lee's selection is a small life preserver in the vast ocean of pain the Knicks have stumbled into once again.
It helps that Lee is totally deserving. His scoring, rebounding and passing have been essential parts of every Knicks victory this season and he'll only be the only guy not playing defense during the game on Sunday night. It's a nice feather in his cap and a testament to how hard he's worked to improve his total game over the last couple of seasons.
It will actually be a busy weekend for Knicks overall. Nate Robinson will try to defend his Slam Dunk title without Dwight Howard there to use as a prop or take the title away from him. Danilo Gallinari will play in the Rookie-Sophomore Game before trying to drape the Three-Point title in an Italian flag. Until Thursday, those were the only reasons to pay attention to the weekend's festivities.
Thanks to Lee, the main event matters as well. It won't make the losing record or losses to come any easier, but the Knicks' return to the list of respectable franchises is still worth a smile.
Josh Alper is a writer living in New York City and is a contributor to FanHouse.com and ProFootballTalk.com in addition to his duties for NBCNewYork.com.
Copyright FREEL - NBC Local Media