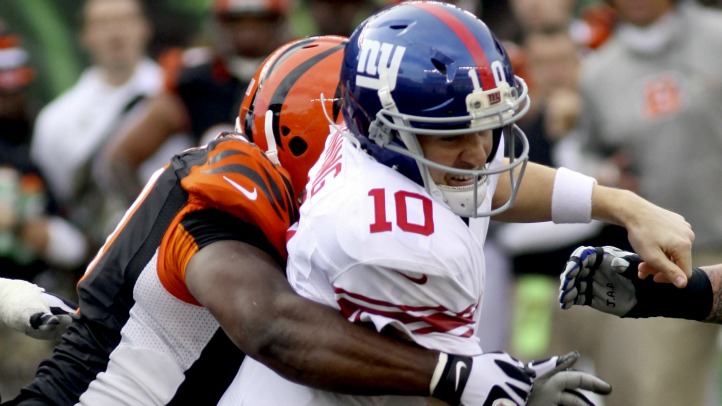 The Giants have not thrown a touchdown pass in the last three games.
It's been a long time since Big Blue has had a run of futility that long with Eli Manning at quarterback. You have to go all the way back to his rookie season in 2004, which is fitting because Manning looked like the rookie version of himself the past few weeks.
Sunday was the worst of those performances as Manning looked completely bewildered by the Bengals defense and the Giants offense changed itself around in order to try to get Manning on track. The first half was all about quick, short passes that Manning completed without doing much in the way of moving the ball or pressuring the defense.
It's a far cry from the kind of game we're used to seeing from the Giants in recent years and the flaws of the approach became apparent once the Giants fell behind. The Giants weren't able to protect Manning enough for him to throw deep, the receivers weren't able to find openings against another defense that seemed to know exactly what they were doing and Manning made brutal decisions while turning the ball over three times.
Keeping things short and easy are good for creating rhythm and confidence, but that strategy doesn't do much to make a defense break down when the opposing team knows that the Giants will sputter in the red zone or on third down when those easy throws aren't there. And, right now, the Giants can't make anything but the easiest of throws.
Every time they tried to do more on Sunday, the Bengals crushed them with a sack or interception. Manning made terrible decisions under pressure and gave some credence to whispers about a tired arm as he failed to drive the ball around the field like he normally does.
Manning doesn't think that's a problem, but you almost wish it were. At least that would explain why there's actually a question about which Meadowlands-based quarterback had an uglier game on Sunday.
Here's the rest of the good, bad and ugly from Sunday's loss.
GOOD: Bye weeks are normally the worst part of the season, but there probably aren't many Giants fans upset about not having to watch this team play in Week 11. The whole team looked beaten from the opening kickoff on Sunday, which falls on Tom Coughlin as much as any player, and the only hope is that they can find some rejuvenation in the next two weeks.
BAD: Teams are daring the Giants to run the ball and the Giants keep failing to do it at the crucial points in the game. Ahmad Bradshaw's tough guy credentials can't be questioned, but you have to wonder if he's hurting the team by not allowing himself to heal up and he's now lost three fumbles this season on top of his middling results running the ball.
UGLY: Something else Coughlin needs to answer is why he thought returning David Diehl to the starting lineup made any sense at all. Diehl was a turnstile on Sunday, just as he was against the Steelers, and the Giants line has fallen apart since he replaced Sean Locklear at right tackle.
GOOD: Hakeem Nicks still exists! It didn't amount to anything worthwhile, but Nicks was an active contributor to the offense for the first time since Week Two and that bodes well for post-bye action.
UGLY: Giving up a 64-yard punt return to Adam Jones is bad enough on its own. The fact that it came after a great punt wiped out by a player intentionally running out of bounds is grounds for that player (cornerback Justin Tryon) finding another place of employment.
UGLY: There's no doubt that there was a miscommunication between cornerback Corey Webster and safety Stevie Brown on A.J. Green's early 56-yard touchdown pass. The part that is less clear is why Webster seems to be involved in so many miscommunications with the rest of the defense when he's touted as a team leader and their best cornerback.
BAD: Victor Cruz is one of many symptoms of the offensive malaise of the Giants, but three straight invisible games means that it is time for him to adjust to the way that he's being defended. Teams aren't letting Cruz beat them anymore, which means he has to beat them without their help or the team has to find someone who can.
Josh Alper is also a writer for Pro Football Talk. You can follow him on Twitter.
Copyright FREEL - NBC Local Media