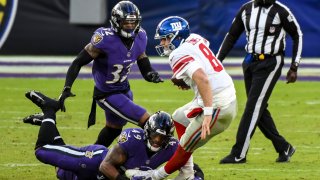 With a 5-10 record and a three-game losing streak heading into the final weekend of the regular season, it can be said without reservation the New York Giants don't deserve to be in the playoffs.
This is 2020, though, and we are talking about the NFC East, the division that has been held up to ridicule all season.
So yes, the Giants still have a shot at making the playoffs. So do the Washington Football Club (6-9) and the Dallas Cowboys (6-9). The Eagles (4-10-1) are out, although they will have a say in who wins the division
So who goes to the postseason?
Washington has the most direct path to the title. If it beats the Eagles on the road on Sunday night, it wins the division. If it ties, it would need New York to beat Dallas to claim the title. Otherwise, Dallas wins.
The winner of the Cowboys-Giants game at MetLife Stadium on Sunday afternoon gets the playoff spot if Washington loses.
Any way you look at it, a team with a losing record is going to make the playoffs.
"I don't think the record is the biggest thing to look at," Giants linebacker Blake Martinez said Monday. "I think you look at a team on how they progressed throughout the season and how they're improving. Once the playoffs start, it's 0-0. You continue to win, you keep going. You can be a team that's 16-0 and lose the first game and you're out. You can be a team that's, like you said, 6-10 and win all the way through. And you keep going."
On the train ride home from Sunday's 27-13 loss in Baltimore, coaches and players watched the results from the later games that kept the Giants in the playoff race: Carolina's win over Washington and Dallas' victory over the Eagles.
Rookie coach Joe Judge spoke with the team after the return to the Meadowlands.
"When we got back, I did grab the team and just kind of let them know what the situation is, but really reaffirm the importance of staying focused on Dallas," Judge said. "That's all we can control."
The Giants had control of their chances after beating the Seahawks in Seattle earlier this month. Since then, they have shown very little in losing to Arizona, Cleveland and Baltimore.
They now have one more chance to make a positive statement and try to make the playoffs for the first time since 2016.
"I think our coaches said it best," Martinez said. "I think they said you always want to have meaningful December football games. Obviously, this game will be in January, meaningful January games. So to be able to have, that's what every competitor, especially in the NFL, wants."