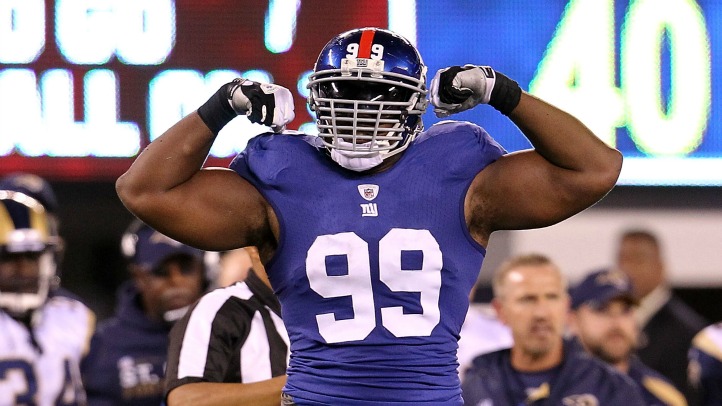 The Giants sliced their roster down to 75 men on Monday and defensive tackle Chris Canty was one of the casualties.
Canty was placed on the physically-unable-to-perform list, which means that he won't be eligible to start practicing or playing until after the sixth Giants' game of the season. Canty had knee surgery this offseason and made a lot of big promises about being ready for the season, but failed to make good on them by not being able to get on the practice field at all this offseason.
We suppose that's the kind of thing that happens when your team gets caught faking knee injuries at several key points in the season, although we don't actually wish Canty any ill will. His play down the stretch last season was a revelation for a player who'd been an almost total non-factor since arriving in Jersey.
The move leaves the Giants thin at defensive tackle with Marvin Austin and Shaun Rogers also injured, although Rocky Bernard and Linval Joseph profile well enough as starters. Canty isn't the only projected starter likely to miss the first week of the season.
Linebacker Michael Boley's hamstring injury is hanging around longer than the uncle you dislike come Christmas while injuries to Terrell Thomas and Prince Amukamara leaves cornerback without much talent at the top end. With the season starting in eight days, it's not the strongest position in the world.
There are plenty of teams that would feel a bit panicked by having all of these injuries on one side of the ball come the start of the regular season. The Giants are not one of those teams.
Defensive success with the Giants starts and ends with the pass rush they get from Justin Tuck, Jason Pierre-Paul and Osi Umenyiora, plain and simple. The flaws of the other players on the field -- and they do have some seriously flawed players in the starting lineup -- are hard to notice when the quarterback is running for his life.
You need only look at the team's playoff run to know how important Boley and Canty were to the defense, but those same games also suggest that there are plenty of players who can thrive in those situations thanks to the guys around them. It would be better to have Boley and Canty healthy, but their injuries aren't going to decide what happens this season.
At least we don't think they'll decide what happens this season. The other lasting lesson of last year's Super Bowl run is that no one could possibly predict the moments that will decide the owner of the Lombardi Trophy.
You can't predict things like Kyle Williams butchering two punts in the NFC Championship Game any more than you can predict Matt Dodge deciding that Tom Coughlin's an idiot for wanting to kick the ball away from DeSean Jackson. You can't predict Rob Gronkowski's high ankle sprain just before the Super Bowl any more than you can predict Plaxico Burress using himself for target practice.
Going through all those things has made the Giants a fairly resilient bunch that's fairly comfortable only controlling the things they know that they can control. Right now, they can control pressuring the quarterback, lighting things up on offense and keeping each other out of the cold tub.
Do those things and these injuries shouldn't be any more of an obstacle than the ones they hurdled last season.
Josh Alper is a writer living in New York City. You can follow him on Twitter and he is also a contributor to Pro Football Talk.
Copyright FREEL - NBC Local Media