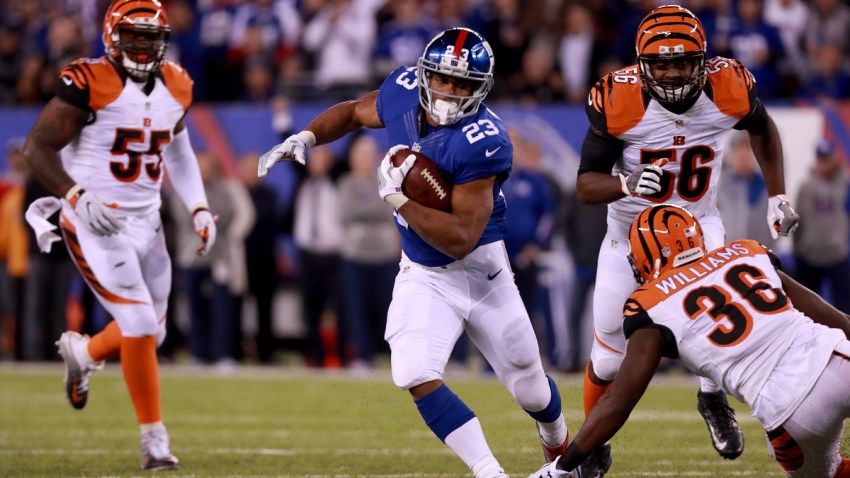 The Giants beat the Bengals 21-20 on Monday night, and they sealed the victory by running the ball with Rashad Jennings. Well, knock me over with a feather.
Facing a third-and-six with 2:50 left in the fourth quarter, the Giants converted after handing the ball off to Jennings, who ran for 9 yards, surprising every sentient creature on earth.
The most surprised person was probably Bengals' middle linebacker Vontaze Burfict, whose first move after the snap was to take a step back, reasonably expecting the Giants to throw a mid-range pass to try to keep the drive alive.
Kudos to Eli Manning for recognizing the coverage and calling the audible to Jennings, who made the most of the opportunity and ran right up the gut and past a blocked Burfict. Manning obviously has a lot more faith in Jennings than most team followers. Jennings ran for a season high 87 yards, and the team (122 yards) surpassed 80 yards on the ground for the first time in six games, snapping a record streak of futility.
Jennings had a long run of 25, averaging nearly 6 yards per carry on 15 attempts. Rookie Paul Perkins totaled 31 yards on nine carries. Manning, meanwhile, had 4 yards on three carries, the kind of average we might have expected from Jennings.
I've hammered Jennings in this space, consistently calling for the team to either abandon him as the starter or to abandon the running game altogether. I mean, this isn't the 1970s or the era of 3 yards and a cloud of dust. The Giants have now won four games in a row and they've done it with a terrible running game. They've shown it can be done. But by putting the rushing attack on the backburner, they also retain an element of surprise, as evidenced by Jennings' pivotal scamper.
The team's offensive line –- already without top guard Justin Pugh -– was overwhelmed all night by Bengals' nose tackle Geno Atkins, who was in Manning's grill throughout the game and finished with two tackles and a sack. But it was back-to-back sacks of Andy Dalton on the Bengals' last possession that forced Cincinnati to punt and set the stage for Jennings.
Last year, the Giants blew five fourth-quarter leads, a prime reason Tom Coughlin was not retained as head coach. During halftime of Monday's game, Coughlin was among the most recent inductees into the Giants' Ring of Honor. In the third quarter, he was in the booth for an interview when announcer Sean McDonough asked him if it was difficult to come back and watch this team. Coughlin danced around the issue a bit, but I suspect it's very difficult to look at this Giants' 6-3 team and not wonder, "Where was all this talent last year?"
Sterling Shepard, Jerell Adams, Oliver Vernon, Janoris Jenkings and Snacks Harrison have all been impact additions this season. And when you add in a resurgent Landon Collins, who is in the early discussion for Defensive Player of the Year, you can imagine Coughlin shaking his head and thinking, "Heck, I would have won with this team."
That's debatable. What's not debatable is the Giants are closing out games they tended to lose last year. And they're doing it with gutsy calls (like Ben McAdoo going for it on fourth and goal early in the fourth quarter, when Manning hooked up with Shepard for the go-ahead touchdown). And they're doing it with a defense that is consistently making huge stops when it needs to.
The Giants now face the two worst teams in the league (at home versus Chicago and on the road at Cleveland) before a brutal five-game stretch to close the year (at Pittsburgh, vs. Detroit and Dallas, at Philadelphia and Washington).
Big Blue is riding high, but I don't know how many more times you're gonna fool an opponent by running Jennings on third-and-six.