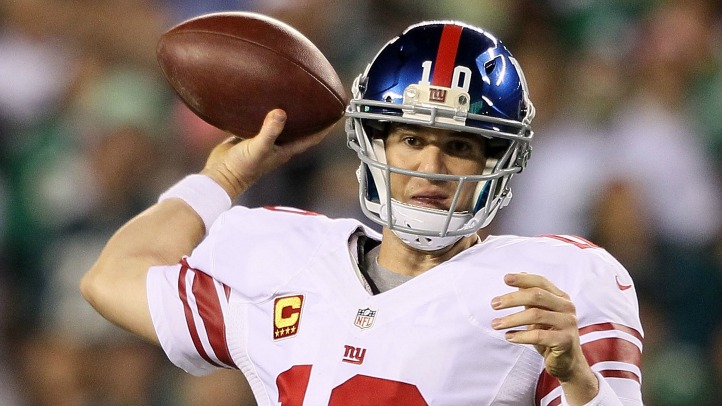 There was one big question left hanging in the air after the Giants lost 19-17 to the Eagles on Sunday night.
Why in the world were the Giants taking a risk like throwing the ball to Ramses Barden near the end zone when they were already in what felt like comfortable field goal range for Lawrence Tynes? It seemed sort of like trying to fleece customers out of money when you were already doing quite well for yourself financially and we know how well that worked out for all the too big to fail banks of our fair nation.
The answer's a pretty obvious one. The Giants trust Eli Manning as much or more than any team in the league trusts its quarterback.
Letting Manning take a shot for Barden in one-on-one coverage against Nnamdi Asomugha down the sideline must have felt like the most natural thing in the world for Tom Coughlin and Kevin Gilbride because it is the kind of thing that's worked out well enough to win two Super Bowls in the last five years. Manning had hit a similar play for a big gain on the previous Giants drive and he'd gotten two pass interference flags on other throws to Barden in the same drive, so the idea that it was a terrible notion couldn't have crossed anyone's mind.
The problem wasn't even the play call, but the execution. You want that ball to be in a place where only Barden can catch it and Manning underthrew the pass to where only Asomugha could catch it.
That's what led to the pass interference, which actually wasn't such an awful decision by a receiver who thought that the ball was going to be intercepted if he didn't mug the defensive back. It's the kind of throw that happens from time to time, but it isn't something that makes the whole thought process leading up to the throw incorrect.
It was third down, so the Giants couldn't spike the ball to stop the clock if they ran a play that didn't get them a first down and that could lead to a situation where the field goal unit was rushing too much to get off a good kick. And a play that ran a bit long without getting a touchdown brought similar concerns to the table in terms of the Giants' ability to spike the ball.
An incompletion doesn't matter because the team's clearly happy to kick the field goal from that spot and, frankly, offensive pass interference isn't something that comes to mind as a likely outcome for that particular pass to that particular receiver. An interception is devastating, obviously, but that risk exists on any pass that Manning might throw.
Above all else, this is a guy who has succeeded in situations like that almost every time he's been in them over the last few years. It's unthinkable that you can cheer Manning's ability to rally his team in impossible predicaments and then complain that you put your faith in him to win the game.
It didn't happen this time. That's sports.
That doesn't make it a bad idea and it won't make it a bad idea when the Giants handle similar situations the same exact way in the coming weeks.
Josh Alper is also a writer for Pro Football Talk. You can follow him on Twitter.
Copyright FREEL - NBC Local Media