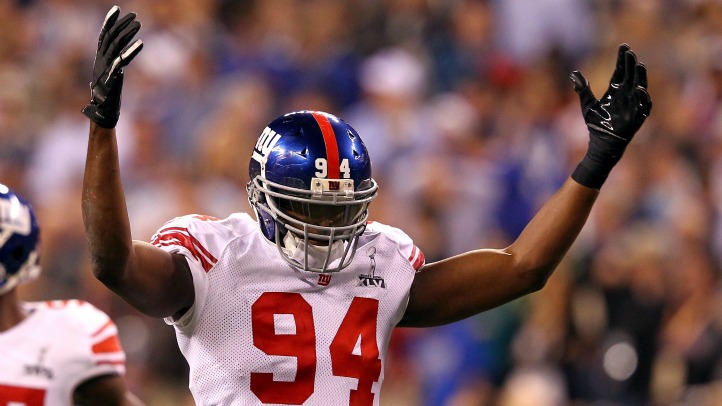 When Jerry Jones told a Cowboys pep rally that his team was going to beat the Giants' rear ends in the season opener earlier this summer, the Giants pretty much ignored the remark.
Whether that was because it was made at a pep rally, i.e. an event devoted to making bold statements to a receptive and adoring crowd, or because they appreciate the silliness of trash talk after years with Tom Coughlin is unknown, but the Giants let the pitch go by. Or so it seemed.
During an interview on WFAN Thursday, linebacker Mathias Kiwanuka was asked about the Cowboys owner's proclamation. His answer suggests that the comment did not escape those in the Giants locker room and that the Giants had come to a consensus about the reason behind them.
"He should ... the Giants have been whupping his ass for a long time," Kiwanuka said, via the Post. "It's got to be tough on the outside looking in on all of these championships lately. That's the feeling everybody in the league has and everybody should have because we're here on top and everybody should be wanting to knock you off."
In other words: Game on. The Giants are 7-2 against the Cowboys since the start of the 2007 season, to say nothing of two Super Bowls against a single playoff win for the Cowboys, a record that proves every point Kiwanuka was trying to make.
Even if there's much to be gained from the mindset of having to prove yourself again this season, it's nice to see a little bit of confidence coming from the Giants ahead of the season. They spent so much of the offseason complaining about how little respect they were getting from the rest of the league -- Justin Tuck did it again in comments that share space in the Post with Kiwanuka's broadside -- that its actually a breath of fresh air to hear a member of the team who ignores that part and just focuses on the Giants' place of primacy in the league.
It's a much better position to take than complaining about no one giving you respect, especially since they love to talk about earning things around the Giants. We all know that the Giants loathe anything that might smack of the way that the Jets do business, but it's okay to simply say that you're the champions, you earned the championship and that every other team in the league wants to be exactly where you are right now.
The chase gets underway Wednesday night on NBC and Kiwanuka just offered a reminder of the identity of the lead dog.
Josh Alper is a writer living in New York City. You can follow him on Twitter and he is also a contributor to Pro Football Talk.
Copyright FREEL - NBC Local Media