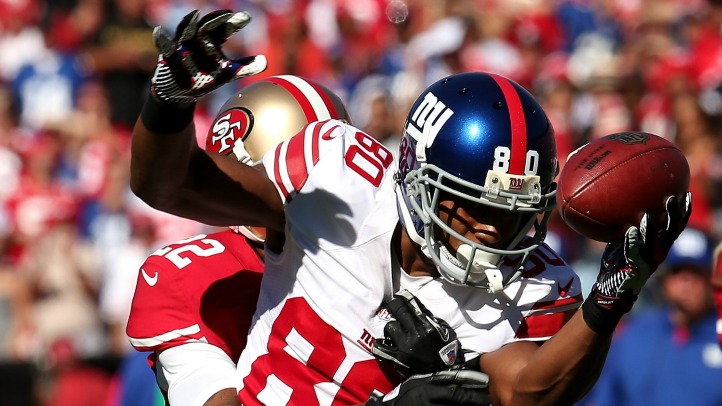 Not even Tom Coughlin could try to pull off selling the Giants as an underdog this week.
His Monday press conference was full of talk about the team's two losses in conference play, a veer away from the laughable notion that no one thought the Giants were a good team. Coughlin will keep pushing buttons to make sure no one gets complacent in the locker room, as any good coach would do, but the "nobody believes in us" button is out of order until there's actually a reason not to believe in the Giants.
Right now, it is impossible to find one. With the defense showing up in San Francisco on Sunday, there's now no phase of the game where the Giants are doing anything but succeeding.
Jason Pierre-Paul had two sacks, the pressure on Alex Smith was relentless and the Giants made him pay for bad throws by picking the ball off. Their run defense, so bad in the previous two weeks, made the Niners one-dimensional a week after they ran for 300 yards and the passing dimension simply wasn't good enough to get the job done.
Their resurrection came a week after the running game returned to life. Ahmad Bradshaw has had two of the best games of his career in a row, although it doesn't take an advanced degree in football to see that he should be buying dinner for his linemen to thank them for paving the way back to glory.
We're used to seeing the Giants run the ball well and defend well. Seeing them with a dynamic kick return game is something completely different.
David Wilson's emergence has made life even easier for the Giants in the last few weeks while also opening up another avenue to jolt the team to life when things might not be going their way. Giving Eli Manning short fields to work with is like taking candy from a baby, which is just how easy every game should be for the Giants.
It was fine for the Giants to give medium effort and wait for Eli to win the game, especially when Victor Cruz is riding one of the most impressive starts to a career in history. Once Hakeem Nicks is back to full speed, it will be even easier to go that route.
If that's the way things play out, though, Coughlin should be disappointed. It's all well and good to play the poor me game he loves to play with the media, but this team is far too good to have some of the halfway performances they've had this season.
Perhaps the 49ers game was finally the one where the Giants stop worrying about who else believes in them and start just believing in themselves. It makes for less fawning about how they play with their backs against the wall, but it would be the most honest way to approach their business.
Josh Alper is also a writer for Pro Football Talk. You can follow him on Twitter.
Copyright FREEL - NBC Local Media