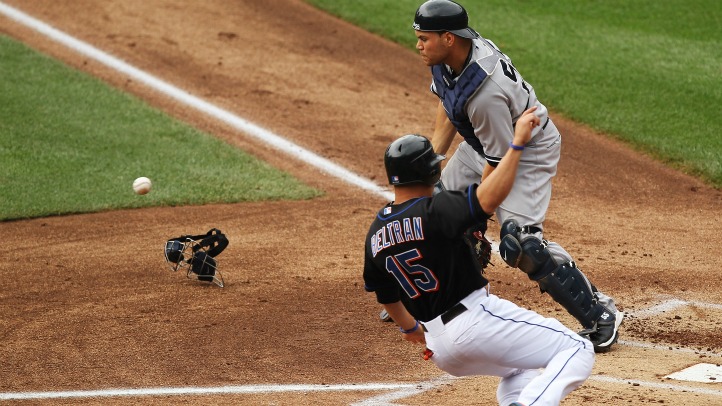 You had to know this weekend was going to come down to a shortstop. You just wouldn't have guessed it would be this one.
Jose Reyes has been all the rage for the Mets this season, but all that raging turned to worrying when he came up with a hamstring strain on Saturday. Derek Jeter is playing, but he's playing in Trenton and won't be back until Monday.
The Mets didn't need Reyes to spark a rally, though. They needed Mariano Rivera.
Rivera blew a save against the Mets for the first time since 1999 when Matt Franco played spoiler. This time around it was Ronny Paulino doing the honors, scoring Jason Bay with a single and setting up a strange little play that sent the game to extra innings.
Ruben Tejada drilled a ball to Ramiro Pena at shortstop -- playing in place of Eduardo Nunez, who had the third-most discussed injury of the weekend -- and Pena booted it. Before he could become the Luis Castillo of the Yankees, however, Brett Gardner fired a perfect peg to Russell Martin who tagged out the very slow moving Lucas Duda.
When players get thrown out by a mile, as Duda was, the first thought is to kill the third base coach for sending him. With Rivera on the mound and the tie assured, though, it is hard to argue with the notion that sending Duda represented their best chance to win the game.
That would have to wait one more inning when Pena provided another reason to point out that Jeter will be back on Monday. He bobbled a slow roller with two on and two out in the 10th to allow Daniel Murphy to reach first and allow no one to play a small violin when he's sent to Scranton in the morning.
Bay followed him to the plate and provided the biggest moment of his Mets career. He drilled a single to left off Hector Noesi and the Mets found a way to avoid the sweep and a four-game losing streak.
That's pretty big with a West Coast trip and the All-Star break looming. It's also big for a team to avoid a sweep at home, regardless of opponent, and maybe, just maybe this hit by Bay is the thing that gets him going.
Wishful thinking, perhaps, but until the Mets tell us exactly what's what with Reyes's hamstring we'll be grasping for positives. Sunday afternoon helps that process quite a bit.
Josh Alper is a writer living in New York City. You can follow him on Twitter and he is also a contributor to Pro Football Talk.
Copyright FREEL - NBC Local Media