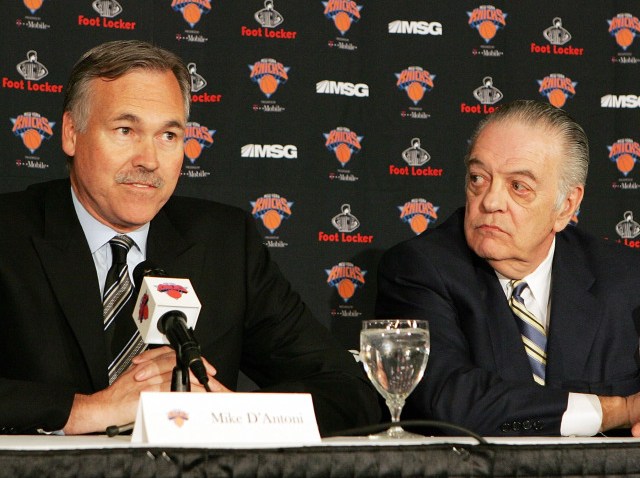 It's funny the way things work sometimes. Just before the Knicks and Pistons tipped off at the Garden on Wednesday night, Donnie Walsh offered up his latest request to blame him and not Mike D'Antoni for the sorry state of affairs with the Knicks this season.
"If that doesn't work right away, I would continue to try to do it," Walsh said. "Or if I'm not the guy, I'll leave. I don't know how any other ways to say it. I don't think I've put Mike in a situation that he should be winning."

Clearly inspired by Walsh's selflessness, the Knicks exploded for an impressive 128-104 victory. Or perhaps it was a result of D'Antoni altering the lineup to start Tracy McGrady at point guard and the continually impressive Billy Walker at shooting guard in an attempt to go big instead of constantly playing small. Or maybe it was just the fact that the Pistons offer a pretty good reminder of how good a job Walsh has actually done. They're just as bad as the Knicks, but without any hope of changing course this summer because of bad contracts and a mismatched team.
At any rate, Walsh isn't wrong. The Knicks obviously weren't in a position to win this season, but absolving D'Antoni of any role in the losing simply doesn't work. This team hasn't lost 15 of their last 21 games because they've been particularly well-coached. D'Antoni hasn't coached like a guy who was only focused on next year and relied heavily on the young players nor has he coached to the strengths of the players he does have to wring out every last victory.
Throw in the issues players have had with communication and his inflexible rotation -- we'd love to know why McGrady played 34 minutes in a game that was over with eight minutes to play in the fourth quarter -- and you have even more reason to think that D'Antoni has been part of the problem this year. Winning games this year and last year may not be a significant part of his job description, but there have been too many times where he's seemed completely indifferent to the task at hand.
The good news is that seems to be changing. Walker and Sergio Rodriguez, two guys who may actually be here next season, are getting lots of burn. D'Antoni's Wednesday lineup was a worthy experiment to find a way to overcome the team's lack of interior size and Chris Duhon was finally relieved of his duties. All nice steps and signs that D'Antoni remains engaged.
It's too early to write any kind of book on the D'Antoni/Walsh era, but it's safe to say that if things don't work out there will be plenty of blame to go around when that chapter does get entered into history.
Josh Alper is a writer living in New York City and is a contributor to FanHouse.com and ProFootballTalk.com in addition to his duties for NBCNewYork.com.
Copyright FREEL - NBC Local Media