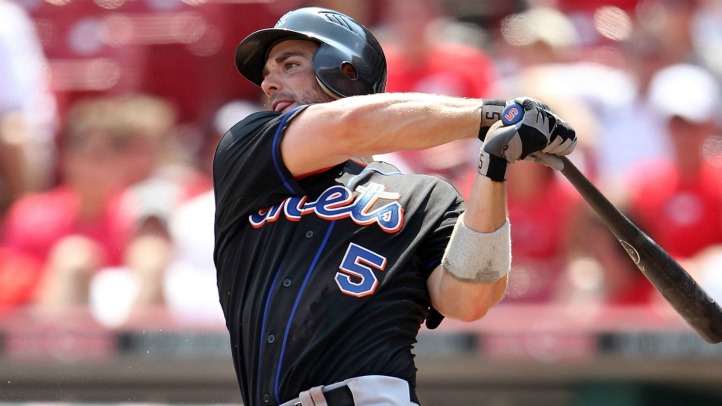 There were two quick and easy reactions to Thursday's 10-9 Mets win that gave them a four-game sweep of the Reds in Cincinnati.
The first is to chortle a little bit, elbow your buddy in the ribs and make a comment about how you guess the team didn't need Carlos Beltran all that much. That's what happens after 18 runs in the first two games without him, even when you know that Beltran's play this year is a big part of the reason you're still watching the Mets.
The second is to make all kinds of disclaimers before saying that you aren't quite sure the Mets are out of this thing yet. It is just a 6.5 game deficit and anyone who thinks that can't be overcome doesn't remember the 2007 Mets.
Or the 1973 Mets, if you're looking for an example that doesn't make you physically ill.
Those are the quick, happy takes after a fun little ride through southern Ohio, but they eventually give way to another, somewhat darker conclusion. One that has nothing to do with how easy it is to hit in Cinci, how lost the Reds look as a team right now and how unlikely it is that Lucas Duda will keep hitting this way for the rest of the season.
Watching the Mets this week, especially David Wright, makes you wonder what could have been.
Wright has been spectacular since returning from the disabled list, hitting in every game and getting multiple hits in six of the seven games. He's driven in 12 runs, scored nine and generally reminded everyone of how good he can be when his body is on his side.
Watching this Wright has been equal parts bitter and sweet. Sweet because it is great to see a great player healthy and productive and bitter because you know the Mets season, enjoyable as it has been, would look so much different had Wright been able to avoid that back injury on an awkward tag attempt in an April game.
What-ifs are a pointless exercise because we know exactly what did happen and the results of those events, but it is an exercise that is hard to resist. All other things being equal, how many wins would a healthy Wright have been worth in his two months on the disabled list or in the month he played hurt between his injury and his trip to the DL?
Probably enough for the gap between the Mets and Braves to be smaller and for the decision to trade Beltran to have been that much harder for Sandy Alderson to make. That doesn't mean he made the wrong call as the real circumstances have to be your guide while running a baseball team, but it isn't hard to see how this team could have been looking for help instead of selling it this week.
In the end, this Mets season is going to wind up being judged by Mets teams in 2013 and beyond when Zack Wheeler is in Queens and the players bought with money saved on K-Rod are on the field. By then you won't remember how close the Mets were to making this season matter in the present, but, for now, it remains part of the puzzle.
Josh Alper is a writer living in New York City. You can follow him on Twitter and he is also a contributor to Pro Football Talk.
Copyright FREEL - NBC Local Media