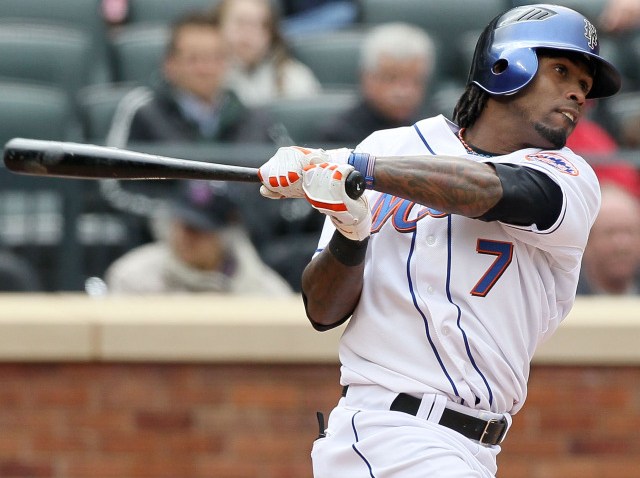 Causation and correlation can be tricky concepts for some baseball watchers to truly wrap their heads around.

Jack Morris won a lot of games with mediocre peripheral stats, for example, and there's a class of people who believe that he just knew how to win instead of realizing that he was actually a durable pitcher who played on very good teams.
Those people probably also think that Jose Reyes moving to the third spot in the batting order has been a smashing success because the Mets won their first seven games featuring the new lineup.

Why bother looking at the numbers when the team is winning, er, was winning and Jason Bay is hitting? Those were the goals when Jerry Manuel shuffled the deck so the move is unquestionably a success.
The numbers don't back that up. Bay might be hitting, but if you'll remember back to when the move was actually made the idea was that having Reyes on base in front of him would be the impetus for more fastballs and, in turn, more hits for Bay. Reyes's on-base percentage since the shift is just .262, however, and Bay has just two hits in 11 at-bats with Reyes on base in front of him. Bay's hitting .375 without Reyes on base which would seem to indicate his surge has been influenced only incidentally, if at all, but the change in front of him.
Monday night put all of this in crystal clear perspective. Reyes was on base twice for Bay and Bay struck out twice. One game, yes, but if causation truly existed the result would have been different.
What about the effect of the move on Reyes himself? It's hard to truly figure out what's going on in the head of a hitter from at-bat to at-bat, but the numbers certainly point to a player trying to do more with power than with speed. Reyes has hit fly balls on 44 percent of his balls in play since the move, a number that's up from what he was doing before shifting spots. That's not good, as the season-long rate of 41.3 percent is the highest of his career.
The big caveat to all of this is, of course, the small sample size we're dealing with when discussing Reyes's move.

He hit two line drives on Monday night and still has the lingering rust caused by last year's injury to cast off before we can say he's truly back to being himself on the diamond. More time is needed to know anything concrete about the shift in the lineup and Reyes's general fitness, but you have to wonder if that time will be given.
The offense has dipped again in the last three games and the calls will come for Reyes to be restored to the leadoff spot before much longer. They'll be as misguided as the credit thrown Manuel's way for making the shift in the first place because the success or failure of the Mets has to do with a lot more than where Jose Reyes hits in the order.
Josh Alper is a writer living in New York City and is a contributor to FanHouse.com and ProFootballTalk.com in addition to his duties for NBCNewYork.com. You can follow him on Twitter.
Copyright FREEL - NBC Local Media