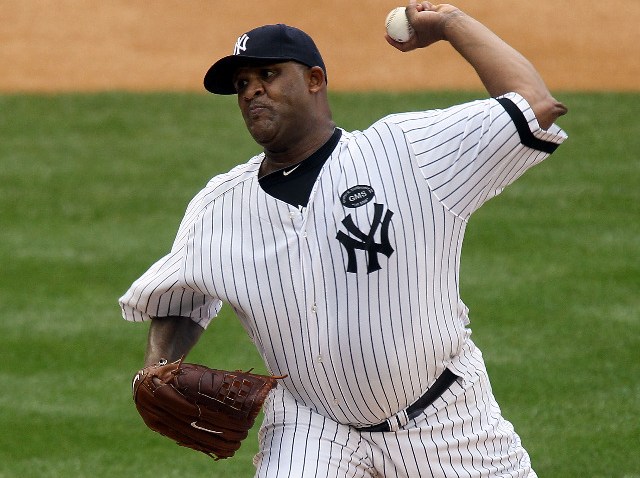 The Yankees spent the homestand that wrapped up Sunday reaching out to the community via their Hope Week initiative. They did a lot of good off the field while going 5-2 on it to move 30 games over .500 for the first time this season.
This week they are on the road and play five games that won't be started by CC Sabathia. That may mean this turns out to be Prayer Week.
Sabathia won his 17th game on Sunday, tying him for the most in all of baseball, and continued his push for a second Cy Young Award. He won't be the darling of the sabermetrically minded voters but it will be difficult for some voters to resist him if the Yankees can hold onto the best record in baseball. It's not just his high win total, either. Sabathia has carried the Yankees through inconsistent seasons from A.J. Burnett and Javier Vazquez, Andy Pettitte's injury and the expected fluctuations in performance from Phil Hughes to stay on target for a shot at another World Series title.
A question to chew on this week: Is Sabathia the best free agent signing in Yankee history? A second World Series would pull him equal with Reggie Jackson and there's more to come with few signs of slippage in the big lefty's game.
That's what makes any week that features as many Sabthia starts as ones by Dustin Moseley and Ivan Nova a less than exciting prospect. Throw in the lack of Alex Rodriguez and you might wonder how this team keeps rolling along.
That's where Robinson Cano enters the picture. Cano bounced up to the cleanup spot this week and assured that the Yankees wouldn't miss a beat while A-Rod recuperates. He hit four home runs, including a grand slam on Sunday, and the Yankees have now won all 11 games this season that featured Cano hitting fourth in place of Rodriguez.
Wherever Cano has hit this season, he's done a good enough job that he has joined Josh Hamilton as the frontrunners for the Most Valuable Player award. His statistics do more than enough to make his case but, like Sabathia, there's more to his candidacy than numbers. Cano has been a necessary constant in a Yankee lineup that's been beset by injuries all year long and his work in April did a lot to make Mark Teixeira's sluggish start easier to accept.
No one is silly enough to argue that Cano and Sabathia are somehow battling against the tides all by their lonesome. There's plenty of help in the Bronx but every team needs the guys who you can turn to in a pinch and get the desired result. Cano and Sabathia have been just that and if they keep it up there's a good chance they'll need to clear some room in the trophy case.
Josh Alper is a writer living in New York City and is a contributor to FanHouse.com and ProFootballTalk.com in addition to his duties for NBCNewYork.com. You can follow him on Twitter.
Copyright FREEL - NBC Local Media