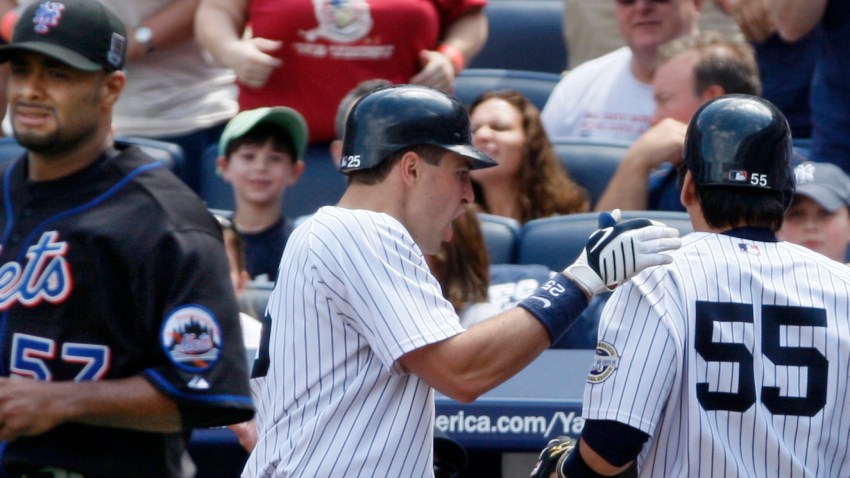 Talk about an embarrassment. Derek Jeter and the New York Yankees hammered Johan Santana in the worst start of his career, routing the Mets 15-0 on Sunday for the biggest blowout in Subway Series history.

Jeter went 4 for 4 and the Yankees got two-run homers from Hideki Matsui and Robinson Cano in a nine-run fourth inning, chasing Santana early to take two of three in a testy series at Yankee Stadium.

Mets closer Francisco Rodriguez shouted at Yankees reliever Brian Bruney in left field during batting practice and the two were separated by teammates, one day after they exchanged barbs through the media.

Once the first pitch was thrown, the Yankees provided all the fireworks.

They needed only four innings to set a season high for runs in a game, building a huge cushion for A.J. Burnett (5-3). They finished with 17 hits, three by No. 9 batter Francisco Cervelli, and pulled several stars before the seventh.

Mets manager Jerry Manuel wasn't around at the end, either. He was ejected by plate umpire Jim Wolf for arguing after David Wright took exception to a called third strike in the sixth.

Santana (8-4) didn't look right all day. The velocity on his fastball was down, around 89-90 mph, and he was touched up for four two-out runs in the second.

The two-time Cy Young Award winner worked a 1-2-3 third against Mark Teixeira, Alex Rodriguez and Cano -- but failed to get another out.

He walked Nick Swisher leading off the fourth and Matsui followed with his 10th home run. Melky Cabrera lashed a line-drive double, Cervelli singled and Jeter made it 7-0 with an RBI single that chased Santana, who walked slowly off the mound and removed his cap before reaching the dugout.

Johnny Damon greeted Brian Stokes with an RBI double and Jeter scored when Alex Rodriguez grounded into a double play.

That closed the book on Santana, who allowed a career-high nine runs and nine hits in three-plus innings -- matching his shortest start. His ERA spiked from 2.39 to 3.29.

After giving up four earned runs in his first seven outings this season, the left-hander has yielded 26 runs in his last six.

The last time Santana went only three innings was Sept. 26, 2007, with Minnesota at Detroit, where he was pulled after a long rain delay.

The last time he was lifted so quickly without a weather problem was May 23, 2004, when he went three-plus innings in a 17-7 loss for the Twins against the Chicago White Sox.

Flashing a sharp slider, Burnett allowed only four singles in seven innings. He struck out eight and walked four to rebound from a rough start Tuesday night at Fenway Park, where he was chased in the third inning as Boston began a three-game sweep of the Yankees.

The right-hander pumped his first after escaping a bases-loaded, none-out jam in the third and cruised from there.

Cano doubled twice and drove in three runs. Damon also had three RBIs for the Yankees, who won the series opener 9-8 when Mets second baseman Luis Castillo dropped Alex Rodriguez's two-out popup in the ninth inning, allowing two runs to score.

Castillo drew a loud cheer when he caught a first-inning popup.

The injury-riddled Mets have lost four of five.

Swisher, who walked and scored twice in the fourth, knocked the Mets around right from the start.

He ran down Alex Cora's leadoff drive to deep right and banged into the auxiliary scoreboard, dislodging the ``Mets'' sign next to their linescore and some blue padding at the bottom of the fence.

Swisher replaced the padding with his spikes -- a worker reached through from inside the scoreboard and straightened the "Mets'' sign.
Copyright AP - Associated Press