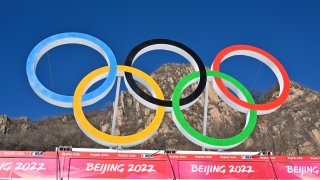 There are athletes representing 91 countries at the 2022 Beijing Winter Olympics — and being able to tell the nations apart based on their abbreviations can be tough.
Some countries' abbreviations are not so obvious (the country that has the abbreviation MKD doesn't even start with the letter M), and others are abbreviated from the French words for the country, or the language of the country itself. For example, Switzerland is abbreviated SUI, for the French word Suisse.
Then there is the ROC, which isn't a country at all, but rather the abbreviation for Russian Olympic Committee, after the country was given a 4-year ban from the games after a doping scandal.
So what is each nation's abbreviation? Here's a rundown, in alphabetical order of country:
| | |
| --- | --- |
| Country Name | Country's Abbreviation |
| Albania | ALB |
| American Samoa | ASA |
| Andorra | AND |
| Argentina | ARG |
| Armeni | ARM |
| Australia | AUS |
| Austria | AUT |
| Azerbaijan | AZE |
| Belarus | BLR |
| Belgium | BEL |
| Bolivia | BOL |
| Bosnia and Herzegovina | BIH |
| Brazil | BRA |
| Bulgaria | BUL |
| Canada | CAN |
| Chile | CHI |
| China | CHN |
| Colombia | COL |
| Croatia | CRO |
| Cyprus | CYP |
| Czech Republic | CZE |
| Denmark | DEN |
| Ecuador | ECU |
| Eritrea | ERI |
| Estonia | EST |
| Finland | FIN |
| France | FRA |
| Georgia | GEO |
| Germany | GER |
| Ghana | GHA |
| Great Britain | GBR |
| Greece | GRE |
| Haiti | HAI |
| Hong Kong | HKG |
| Hungary | HUN |
| Iceland | ISL |
| India | IND |
| Iran | IRI |
| Ireland | IRL |
| Israel | ISR |
| Italy | ITA |
| Jamaica | JAM |
| Japan | JPN |
| Kazakhstan | KAZ |
| Kosovo | KOS |
| Kyrgyzstan | KGZ |
| Latvia | LAT |
| Lebanon | LBN |
| Liechtenstein | LIE |
| Lithuania | LTU |
| Luxembourg | LUX |
| Madagascar | MAD |
| Malaysia | MAS |
| Malta | MLT |
| Mexico | MEX |
| Moldova | MDA |
| Monaco | MON |
| Mongolia | MGL |
| Montenegro | MNE |
| Morocco | MAR |
| Netherlands | NED |
| New Zealand | NZL |
| Nigeria | NGR |
| North Macedonia | MKD |
| Norway | NOR |
| Pakistan | PAK |
| Philippines | PHI |
| Poland | POL |
| Portugal | POR |
| Puerto Rico | PUR |
| Romania | ROU |
| Russian Olympic Committee | ROC |
| San Marino | SMR |
| Saudi Arabia | KSA |
| Serbia | SRB |
| Slovakia | SVK |
| Slovenia | SLO |
| South Korea | KOR |
| Spain | ESP |
| Sweden | SWE |
| Switzerland | SUI |
| Chinese Taipei | TPE |
| Thailand | THA |
| Timor-Leste | TLS |
| Trinidad and Tobago | TTO |
| Turkey | TUR |
| Ukraine | UKR |
| United States | USA |
| Uzbekistan | UZB |
| Virgin Islands | ISV |