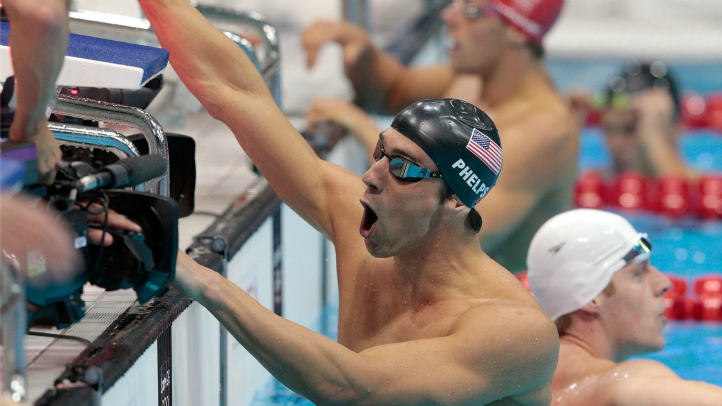 It's fitting that Michael Phelps became the most decorated Olympian in history on a day when dominance was everywhere you looked at the Olympic Games.
Phelps' anchor leg of the 4x200 meter freestyle relay brought the U.S. team a gold medal by more than three seconds over their closest competition, providing plenty of time to savor the moment that Phelps' remarkable career has been building to for quite some time. Phelps has won gold so many times that it seems routine, but the overall medal record provided a bit of perspective that hammers home the impressiveness of his accomplishment.
The relay wasn't Phelps' only race of the day. He also took a silver in the 200 meter butterfly when he was touched out at the wall in an almost exact replay of his 2008 victory in the same race.
The only difference was that Phelps got beaten by Chad Le Clos at the last moment because he made a mistake by reaching for the finish too early instead of passing someone who made the same mistake. Watching Phelps allow that to happen was shocking, but it also lent more support for his claims of dominance because the shock only existed because of everything that came before.
Dominance in the pool extended beyond Phelps and the rest of the relay team. Allison Schmitt won the 200 free by almost two seconds and Ye Shiwen shrugged off questions about cheating by swimming another killer final leg to win gold in the 200 IM.
Those women didn't have much on the U.S. gymnastics team, though. They won gold by more than five points, a staggering margin in a sport relying on tenths and hundredths to separate competitors, and let the world know that they planned to cruise to victory from the very start of the night.
Starting on the vault gave the U.S. a chance to throw McKayla Maroney out when everyone was watching to see what kind of night the team would have and she sent an unmistakable message by nailing a perfect vault that seemed to rattle the Russian team that had to follow her. Jordyn Wieber, Gabby Douglas, Kyla Ross and Aly Raisman took things from there and the whole event was more of a coronation than a competition.
Everywhere you looked on Tuesday, there was dominance. Novak Djokovic dispatched Andy Roddick in less time than it takes to watch an episode of The Newsroom and the U.S. hoops team dazzled the Tunisians to the point that Tunisia was just waiting for time to run out so they could get autographs from the team crushing them on the court.
Chen Ruolin won a third diving gold by lapping the opposition in synchronized platform and Sweden beat their British hosts 41-19 in men's handball. We don't actually know much about that last sport, but the score tells you all that you need to know about how well the result fit into the overall theme of the day.
There will be close races and tense finishes in these Olympics. They weren't needed on Tuesday, a day when only dominance registered.
London 2012 is here. Get the top Olympic news, including what to watch, results and features on our local athletes here.
Josh Alper is a writer living in New York City. You can follow him on Twitter and he is also a contributor to Pro Football Talk.
Copyright FREEL - NBC Local Media