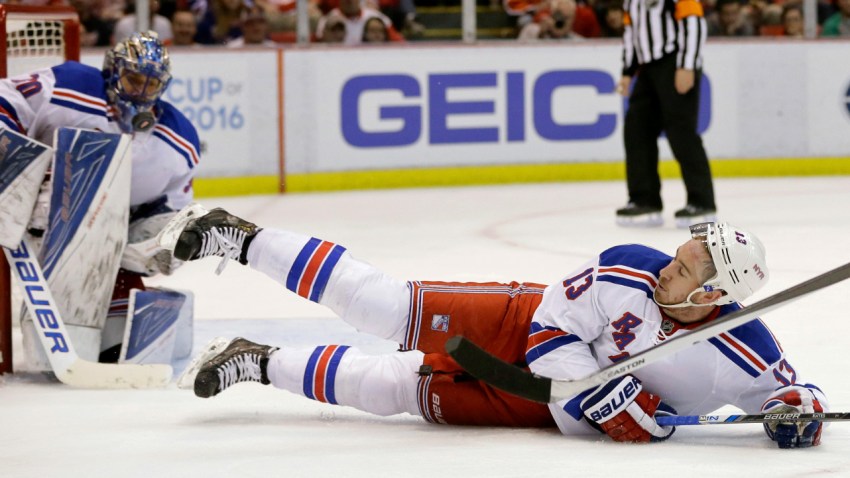 Brad Richards tied the game with 31.8 seconds left in the third period, and then Darren Helm scored in overtime to give the Detroit Red Wings a 3-2 victory over the New York Rangers on Saturday.
Henrik Lundqvist made 40 saves in his first game since March 3, but Detroit finally broke through against the New York goalie. Helm also scored in the third period for the Red Wings.
Derek Stepan and Chris Kreider scored for the Rangers, who also got Rick Nash back after an extended absence.
News
Top news stories in the tri-state area, in America and around the world
The Red Wings tied it in the final minute of regulation when Richards scored on a power play. Detroit had its goalie pulled at the time, and the Rangers twice came within inches of scoring into the empty net.
Ryan McDonagh shot the puck all the way down the ice at the open net, only to have it hit the left post. Moments later, Viktor Stalberg's attempt slipped just past the right post.
The Red Wings got the tying score when Henrik Zetterberg's shot bounced off teammate Justin Abdelkader in front of the net. Richards slammed the carom past Lundqvist from the right doorstep.
Lundqvist stopped a clean breakaway by Dylan Larkin in overtime, but Helm ended it with 1:57 remaining when he got a piece of Pavel Datsyuk's wrist shot on its way into the net.
Copyright AP - Associated Press