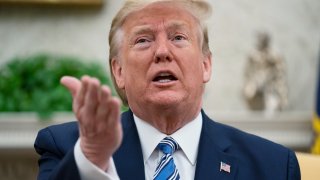 President Donald Trump is mischaracterizing Joe Biden's position on the U.S. pandemic response, stretching the facts on his own policies in the crisis and playing down the risk to meatpacking employees who are being called to work as infections run high.
Trump capped the weekend by taking questions from Fox News anchors and viewers in an open-air evening session Sunday against the backdrop of the Lincoln Memorial. Over the previous week, Trump persisted in bragging about U.S. coronavirus testing despite the country's weak record on that front.
His comments were among many that fell short of reality in the past week as federal social distancing guidelines expired and some states took steps to reopen businesses. The nation's death toll continues to climb.
Trump's newest spokeswoman, Kayleigh McEnany, held the first White House briefing by a press secretary in over a year, pledging she will "never lie to you, you have my word on that." She then spread several misstatements.
Trump and his veterans affairs secretary, meanwhile, exaggerated progress in the testing of front-line health workers during the pandemic. Trump has repeatedly insisted that anyone who needs a test can get one, but that's not what the VA says about its employees.
ON BIDEN
TRUMP, claiming Biden called his travel restrictions on China xenophobic: "Biden has written a letter of apology." ... "He actually apologized (and said) I made the right move." — Fox News, Sunday night.
THE FACTS: There's no such letter in sight. Moreover, Biden supported Trump's restrictions on travel from China — yes, essentially calling them the right move.
Trump's Democratic presidential rival has accused him of having a record of xenophobia but not explicitly in the context of the president's decision to limit travel from China during the pandemic. Trump took to calling the virus the "China virus" and the "foreign virus" at one point, prompting Biden to urge the country not to take a turn toward xenophobia or racism in the pandemic.
MEAT PLANTS
TRUMP, on his emergency order to reopen meat plants after many closed because workers were sickened by COVID-19. "I think it's all working out. ... Those people are tending to get better quickly." — Fox News, Sunday night.
THE FACTS: He offered no support for the contention that workforces at meat plants are rapidly returning to health.
In a report Friday, the Centers for Disease Control and Prevention said more than 4,900 workers at meat and poultry processing facilities have been diagnosed with the coronavirus, 20 of whom have died.
The illnesses occurred among 130,000 workers at 115 facilities in 19 states, according to the CDC. Some states didn't provide data, so the actual count is believed to be higher.
The CDC said plant workers may be at risk for a number of reasons, such as difficulties with physical distancing and hygiene and crowded living and transportation conditions. The researchers suggested that disinfection be enhanced and that workers get regular screening for the virus, more space from co-workers and training materials in their native languages.
---
Associated Press writers Eric Tucker and Jill Colvin contributed to this report.
Copyright AP - Associated Press