View more news videos at: http://www.nbcnewyork.com/video.
Rangel Excuses Himself From Ethics Trial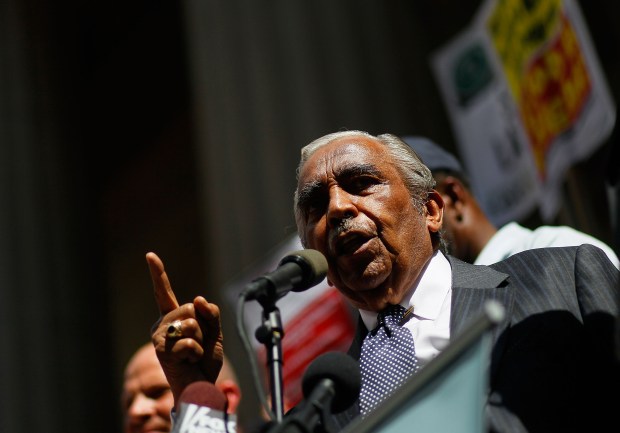 A House panel has denied Rep. Charles Rangel's plea for a delay of his ethics trial, and the Harlem Democrat has left the hearing because he does not have legal counsel.
After a brief private meeting this morning, the House panel of four Democrats and four Republicans said they would continue the proceedings even without Mr. Rangel present.
In opening statements, Rangel said he would "respectfully remove myself from these proceedings," noting that it is unwise to represent oneself in a legal matter.
The 80-year-old politician has no legal counsel after parting ways with his lawyers last month. He told the panel he was "unable to set up a legal defense fund," adding that "50 years of public service is on the line."
The congressman said his lawyers had indicated to him that it could cost another $1 million to defend him at the ethics proceeding. He said it's unfair to continue the trial without allowing him to obtain an attorney.
North Carolina Rep. G.K. Butterfield told the panel that "it troubles me that he is appearing without counsel." The ethics committee chairman, California Rep. Zoe Lofgren, had told Rangel that the panel might not have time to judge his conduct before this Congress adjourns. A postelection lame duck session commenced on Monday.
The committee has charged Rangel with 13 counts of ethical wrongdoing, primarily involving his fundraising and finances. The trial is expected to last about a week. Because it's an ethics trial and not a criminal case, there is no jail time possible and Rangel is unlikely to lose or give up his House seat, analysts say.
The 80-year-old politician headed the House's tax-writing committee. But he acknowledged shortchanging the Internal Revenue Service on his own tax return.
Chief House ethics counsel Blake Chisam, assuming the role of prosecutor at the rare public airing of in-House issues, played a video of a Rangel speech on the House floor in August. Rangel, former chairman of the Ways and Means Committee, acknowledged in that presentation that he'd used House stationery to raise money for a college center named after him, and that he'd been tardy in filing taxes and financial disclosure statements. But he said he never intended to break any rules.
Chisam said he did not believe Rangel's conduct was corrupt, but rather, that the congressman, the former chairman of the tax-writing House Ways and Means Committee, was "overzealous" and "sloppy in his personal finances."
Vermont Democratic Rep. Peter Welch said that no law firm should be "taking the money...and kicking their client by the side of the road." Chisam, then read aloud the 13 charges of alleged financial and fundraising wrongdoing that have been brought against Rangel.
Rangel parted ways with his lawyers last month, but has paid the law firm more than $1.4 million from his campaign account, according to Federal Election Commission records.
The development also could affect the way ethics committee lawyers, acting as prosecutors, present their case to an ethics committee panel that will act as judges.
A verdict against Rangel could come as early as Thursday. After closing arguments, charges will have to be approved by the subcommittee.
Committee attorneys have been lining up witnesses, expecting to face experienced defense lawyers who are familiar with every aspect of the case. The committee lawyers might present a more simplified case with fewer witnesses if Rangel represents himself.
If Rangel is found to have violated House rules, punishment could range from a report criticizing his conduct to a House vote to expel him, the latter highly unlikely. Other possibilities are House votes deploring his behavior.