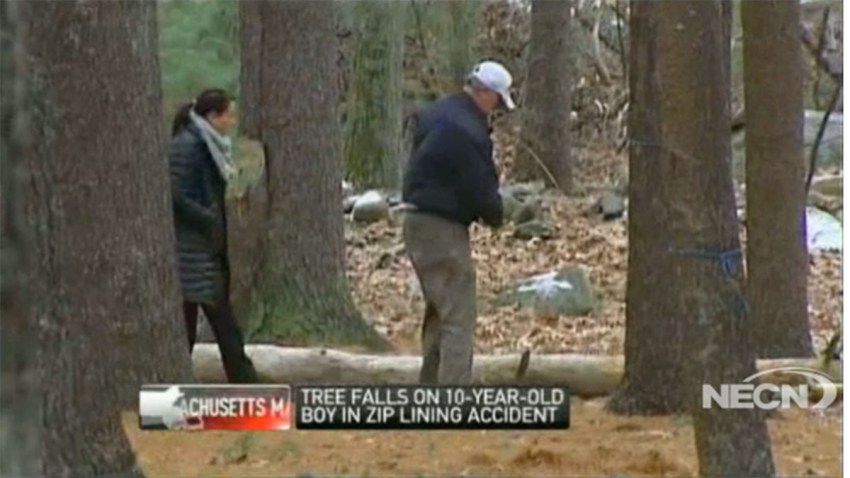 A 10-year old boy is in critical condition at Children's Hospital in Boston after being struck by a falling tree while riding on a zip-line in an Easton, Mass., backyard.
The Bristol County District Attorney's Office says the zip-line, which was attached to two trees, brought down a towering pine on top of the boy. The boy tried to jump off the line, but was unable to get out of the way in time.
"The next thing you know, the tree fell and we heard 'Oh my God," said Walt Tyldesley, Jr., a New Jersey man who was visiting a neighboring home at the time of the accident.
Tydesley said he held the boy's hand and asked him to squeeze his fingers as they waited for help.
"He was still trying to breathe," he said. "You can feel that gasping for some type of air and when the paramedics took his jacket and opened it up, you could see the big bruise mark across his lower back."
The boy, who has not been identified, was rushed to a local hospital and transferred to Children's Hospital in Boston Thursday night. His injuries are unknown.
"It's a tough day for everybody," said a man at the home Thursday. "If you could just, kind of let them go and pray that he'll be alright."
Neighbors and witnesses said the boy was visiting the family who lives in the home and that the zip-line may have been a Christmas present.
"I know they're very active outdoors, very outdoors, very active people, very athletic," said Lorna Paone, a neighbor.
The Bristol County District Attorney's office says the incident appears to be an accident.