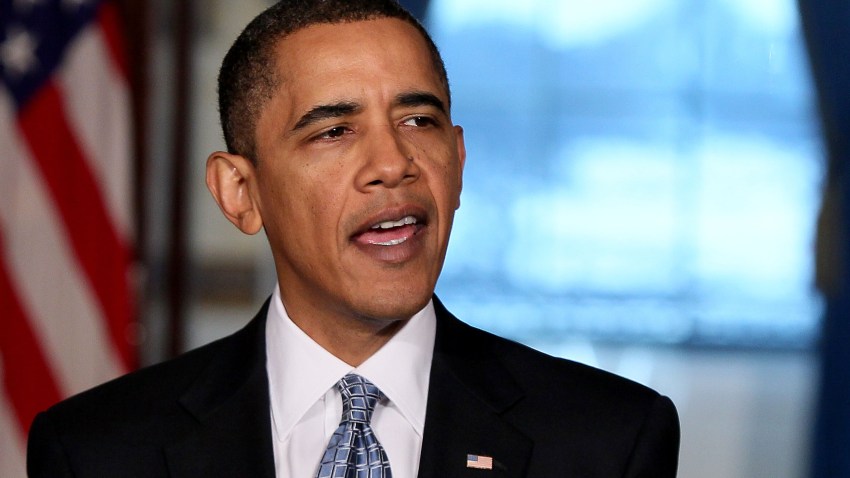 President Barack Obama rolled out his fiscal 2011 budget Monday, telling the nation which federal programs he supports and which ones he's cutting. But the budget says even more about Obama himself — who he is as a politician and how he makes decisions.

For one thing, it reveals that Obama is far more concerned about the nation's unemployment rate than he is about the federal deficit — at least in the short term.

And it shows that, like any politician, he's focused on rewarding friends and not enemies. Just take a look at the huge increases in education: Teachers unions are a strong component of the Obama coalition. And the deep cuts in oil industry subsidies. The big oil-producing companies, by and large, liked former oilman George W. Bush a lot more than they do Obama.

Obama would also allow Bush's tax cuts to expire — effectively raising taxes on families making more than $250,000 a year, some of the people Bush rewarded with his tax cuts.

But most of all, it shows the scale of the problems facing the president and the nation.

"It's a budget that reflects the serious challenges facing the country," Obama said Monday. "We're at war. Our economy has lost 7 million jobs over the last two years. And our government is deeply in debt after what can only be described as a decade of profligacy."

Ultimately, the president was forced to admit that his $3.8 trillion budget does not take on the difficult politics and economics of trying to bring down the nation's runaway budget deficit in the short term. Indeed, under the plan unveiled by the White House on Monday, the nation's one-year budget deficit grew to $1.6 trillion — driven in part by $100 billion worth of new spending and tax cuts that he says are needed to create jobs.

Voters say they're worried about what they see as runaway government spending under Obama. But the White House senses that they're a lot more worried about keeping their jobs — or getting work if they're unemployed — and it seems to be playing for time by promising to attack the deficit, later. He wants to set up a bipartisan commission to come up with answers as to how.

But budget experts say Obama didn't take the toughest steps that would be needed to fight the deficit in this budget. They say any budget that was truly serious about the deficit would have to address bloated and growing federal entitlement programs, which eat up the biggest chunk of the federal budget each year.

"If you completely eliminated all federal discretionary spending, you'd still have a deficit. Because you can't touch the interest payments on the debt, you have to do something on Social Security, Medicare and Medicaid if you want to tackle the deficit," said Stan Collender, a former Capitol Hill budget expert and managing director of Qorvis Communications. "Is this a forceful, robust plan that gets us there? The answer's no. But it does start down the road."

Conservatives immediately voiced their displeasure with the Obama budget in the hours after the details were unveiled.

"This budget shows that he is governing as a tax and spend and borrow liberal," said Brian Riedl, senior federal budget analyst at the Heritage Foundation. "Even as the nation's budget situation deteriorates, he's extending the nation's spending and debt spree."

But beyond the political ox-goring, there were clear winners and losers within the budget itself.
Winners

Education

Obama calls for ramped-up education spending. Department of Education outlays would increase from $32.4 billion in 2009 to $71.5 billion in 2011. Obama puts money into a laundry list of initiatives, from a $1.6 billion increase in child care funding to making permanent the expansion of Pell Grant payouts.

He has sought to please his supporters in the powerful teachers unions by pushing to rework the unpopular parts of Bush's No Child Left Behind Act. Now he's trying to put $3 billion more into K-12 education generally, with up to an extra $1 billion if Congress reworks the education system in the way he wants this year.
Civilian research and development

Convinced that it's a key to the nation's long-term economic recovery, Obama allots significant increases for basic, nondefense science research in a range of departments, a total of $61.6 billion in civilian research.

The administration reiterated commitments Monday to, over time, double R & D funding for the National Science Foundation, the Department of Energy's Office of Science and the National Institute of Standards and Technology. More money is going to develop clean energy alternatives, expand biomedical research, cure cancer and develop a more reliable electric grid.

Small business

The president touted the importance of small businesses to the economy at length during his State of the Union, and his budget gives small companies big advantages. Obama's budget completely eliminates capital gains taxes for investments in the smallest tier of business and provides for a total of $28 billion in loan guarantees aimed at businesses with few employees or little revenue.

Harry Reid and Nevada

Obama boosts Senate Majority Leader Harry Reid (D-Nev.) with a plan to allow the government to guarantee $36 billion more in loans for companies seeking to build new nuclear plants even while his budget takes Yucca Mountain in Nevada off the table as a repository for the waste they would create. That's a move the politically struggling Reid has pushed on behalf of Nevada voters.

Losers

The moon

The administration wants to cancel the Constellation program that was designed to return people to the surface of the moon. The effort received $3.5 billion in the current fiscal year, and Obama surrogates have noted that the door isn't fully closed for future manned spaceflight and pointed out that the budget actually adds $6 billion to NASA's budget over the next five years for projects such as robotic rocket systems.

Some defense contractors

The president wants to increase the Defense Department budget by $18.2 billion, or 3.4 percent. But several small programs are on the chopping block, part of Defense Secretary Robert Gates's push to finally get Defense procurement policies under control.

The biggest of these is a $2.5 billion savings that would come from stopping production of Boeing's C-17 aircraft, saying additional planes are "not needed." There are 223 C-17s already ordered, which would still be delivered, and the military says it can get by with those and the older C-5 planes, which have an average of 30 estimated years of use left in them.

Oil and gas companies

A Texan with deep ties to the energy industry no longer works in the Oval Office, and Obama's budget makes that clear to anyone who might have forgotten. Obama terminates eight different arrangements — mainly tax benefits — that boost fossil fuel production and retard innovation by keeping gas prices artificially low. Removing subsidies for domestic oil and gas producers essentially amounts to a $36.5 billion cost increase on the companies over 10 years.

"It is both perplexing and frustrating. Why would you single out one of the industries that's still trying to drive the industry forward?" said Charles Drevna, president of the National Petrochemical & Refiners Association. "This is not a time to be raising energy prices for the American consumer."
Copyright POLIT - Politico