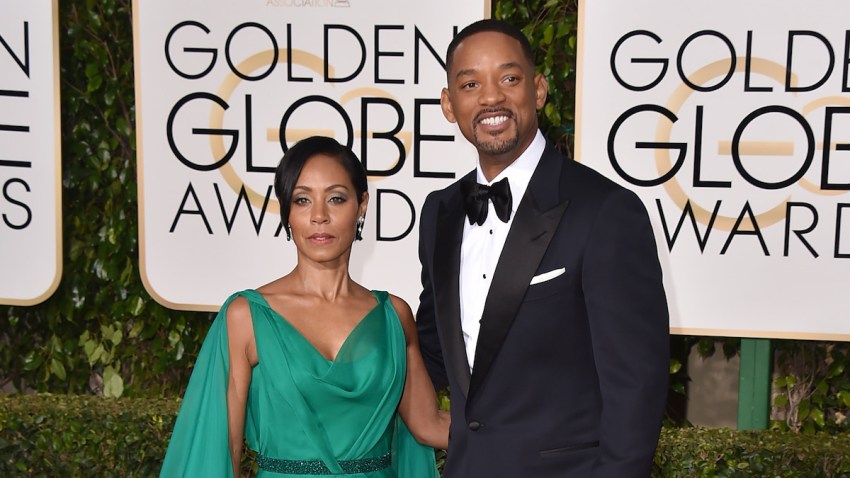 Will Smith recalls being bombarded by paparazzi when he stepped off a plane in Thailand last month...and all because of wife Jada Pinkett Smith.
The 44-year-old actress had just posted on her Facebook page a video in which she vowed to boycott the 2016 Oscars and criticized the Academy over a lack of diversity, following the nominations of an all-white group of actors.
"I was out of the country when she made the video," Smith, 47, said on BBC Radio 1's "Breakfast Show" Tuesday. "I was in Thailand. And I get off of the plane and you know, the paparazzi [were like], 'Will, Will, you're not going to the Oscars! What do you think about Jada's video?' 'Um, I think, give me a second, let me call-' I had no idea. I had no idea and I'm like, 'Babe, you gotta give a fellow a little heads-up, you know? Just a lil something, just, 'Hey babe, you know, hit me before you walk out of the airport.' You know, give me, give me something."
U.S. & World
"I got in the car and Googled and watched the video," he said. "I was like, 'Honey, is there anything you need to tell me?' She said, 'Oh, I didn't want to bother you on vacation.' 'Uh, you did. You really did.'"
Smith, who has been nominated for an Oscar twice in the past, received a Golden Globe nod for his role as pathologist Dr. Bennet Omalu in the 2015 sports drama "Concussion" and many people expected him to be among this year's Oscar nominees. Jada is one of many people, including celebs, who have criticized the Academy over a lack of diversity. Following the backlash, the group announced plans to double "the number of women and diverse members of the Academy by 2020."
Smith has spoken about the Oscars diversity controversy before. He said on "Good Morning America" last month he was "knocked over" by Jada's video and that he would also not attend the Oscars, adding, "We've discussed it and we're part of this community, but at this current time, we're uncomfortable to stand there and say, 'This is OK.'"
While more than half a million people "liked" Jada's post, several people have said online she wouldn't feel this strongly about the issue had Smith not been "snubbed." One of his biggest critics was Janet Hubert, the first of two actresses to play his character's Aunt Viv on "The Fresh Prince of Bel-Air," the show that launched his career. Hubert, who has feuding with him for years, posted a rebuttal video to Jada, slamming both actors.
"I've seen people, say, oh, you know, 'If he was nominated, he wouldn't be having this conversation," Smith told BBC 1. "Let me tell you if I was the only person of color nominated, my wife would have made two videos," he added, laughing. "She would not have gone with me. Trust."
PHOTOS: Celebrities discuss diversity in Hollywood
READ: Will Smith talks about major music comeback and 2016 reunion your with DJ Jazzy Jeff
Copyright E! Online