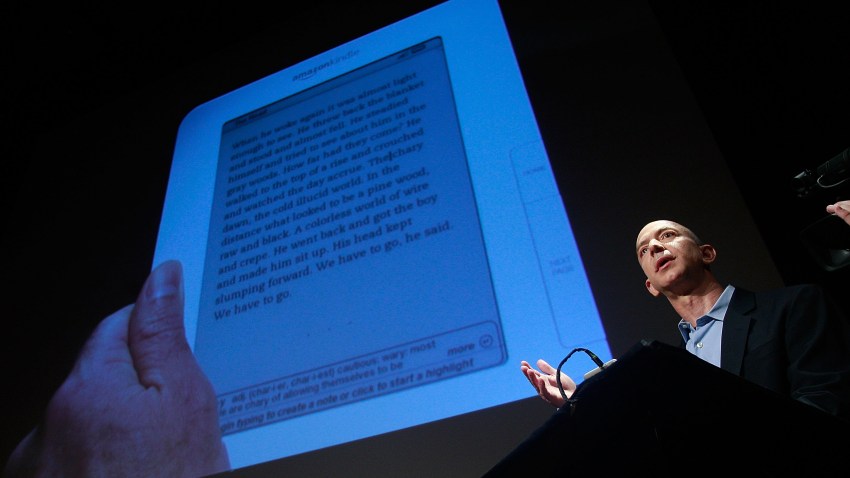 For a guy who laughs so much, Jeff Bezos has been looking awfully sheepish lately.
Amazon.com recently reached over the airwaves and deleted copies of 1984 -- yes, the science-fiction novel which brought us the term "Big Brother" -- from users' Kindle electronic-book readers. Cue the Orwellian references: People compared it to Borders breaking into your home and removing improperly sold books from your shelves. For the second time in months, Amazon's founder and CEO launched an abject apology to customers of his online megastore:
This is an apology for the way we previously handled illegally sold copies of 1984 and other novels on Kindle. Our "solution" to the problem was stupid, thoughtless, and painfully out of line with our principles. It is wholly self-inflicted, and we deserve the criticism we've received. We will use the scar tissue from this painful mistake to help make better decisions going forward, ones that match our mission.
U.S. & World
Sound familiar? This is exactly the kind of abject scraping-and-bowing behavior Amazon.com engaged in after getting caught mistakenly categorizing gay and lesbian books as "adult" material ineligible for its all-important sales rankings.
The real problem here isn't that Amazon makes mistakes, or how Bezos apologizes for them. It's how he does it.
In the age of Twitter, users expect instant answers, not processed press releases days after the event. In both the Kindle controversy and the gay-books brouhaha, Amazon representatives responded far too slowly.
Ironically, Amazon was a pioneer in social networking, buying a nascent startup, PlanetAll, in the '90s, which formed the basis of the site's social features. (A PlanetAll executive, Owen Van Natta, went on to become COO of Facebook and is now CEO of MySpace.) The company's customer reviews are a vital example of how focused social networking can boost sales. But the company has never embraced the notion of interacting with the outside world in real time.
That's where Amazon's recent $840 million purchase of Zappos, a competing online retailer, may really pay off. Zappos CEO Tony Hsieh was an early, enthusiastic embracer of Twitter, and he still runs the company's Twitter account, answering customer-service questions personally as they pop up on the message-broadcasting service.
Hsieh has said he plans to stick around after the acquisition. Jeff, may we suggest that you put Tony to work as your personal Twitter tutor? There's no reason a company which shifts millions of packages around with incredible finesse can't be just as nimble in handling online critics. If the company has any sense, next time, Amazon's apologies will be tweeted.