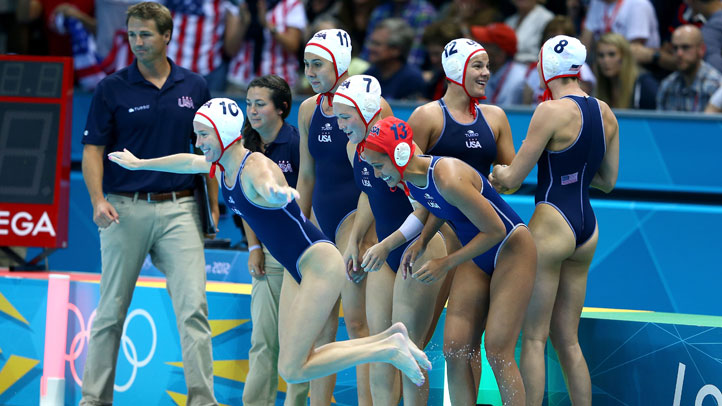 The U.S. women's water polo team just took a big step toward their goal of bringing home the gold.
The U.S. beat Australia 11 to 9 in extra time in Tuesday's semifinal match.
In a bruising match between the two favorites in London, Australia's Southern Ash converted a penalty with one second left on the clock in regulation to tie the match 9-9 and force extra time.
The officials awarded the penalty after U.S. coach Adam Krikorian called a time-out without his team having possession of the ball.
"Everything happened so quickly, but it was a big mistake on my part and it could have cost us the game," Krikorian said in a statement. "Sometimes the coach can let you down and the players need to pick you up. Thankfully they did that today."
Maggie Steffens, who scored four goals in the game, put the U.S. ahead in the first of two three-minute extra-time periods with a skip shot, and Kami Craig followed up with another goal to give the Americans the 11-9 win and another shot at their first gold medal in the event.
The meeting at the water polo arena in Olympic Park was a rematch of the semifinal four years ago at the Beijing Games that the Americans won 9-8 behind three goals from Brenda Villa.
"There is great rivalry with them," said Team USA's Lauren Wenger. "They bring it, we bring it. It's always going to be a great game."
And it's a game, historically, that's always been played for high stakes: The two teams have played each other at every Olympics since women's water polo debuted at the Sydney Games.
The winner will face either Hungary or Spain, who face off in the other semifinal.
When asked who the team would prefer to play, Team USA's Kami Craig said it doesn't matter.
"Don't know, don't care," she said. "We'll be ready for either of them."
Get Olympic updates: iPad App | iPhone App | Android App | Facebook | Twitter | Google+ | Instagram | RSS | Text Alerts | Email Alerts
Copyright AP - Associated Press