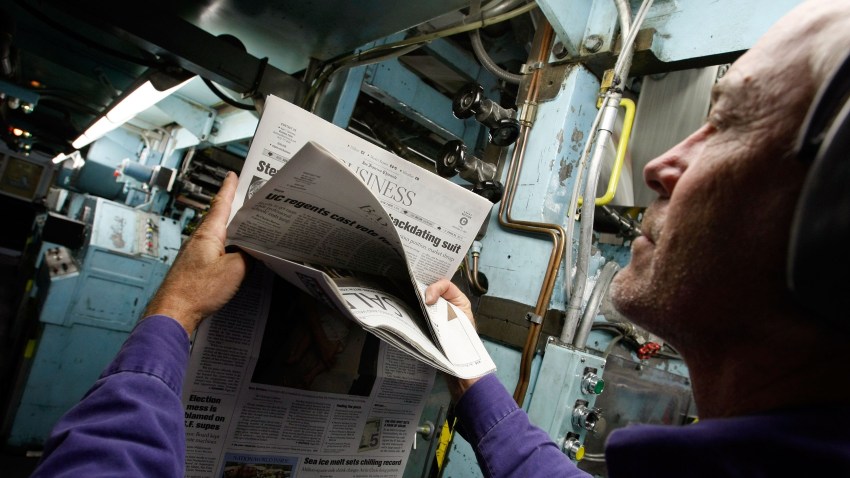 The San Francisco Chronicle's largest employees' union has approved a tentative labor agreement that allows the newspaper to lay off workers without regard to seniority and implement other cost-cutting measures.
Union members passed the agreement Saturday by a 10-1 margin, said Chronicle reporter Michael Cabanatuan, president of the Northern California Media Workers Guild. The union represents about 500 editorial, advertising and circulation workers.
The concessions include less vacation time and longer work weeks for the same wage.
"As I've mentioned before, this agreement is critical to ensuring the survival of The Chronicle," said the paper's chairman and publisher, Frank Vega, on Saturday in an internal memo to employees. "I appreciate the willingness of our employees to work with us to make the difficult decisions that need to be made during these difficult times."
The Chronicle's owner, Hearst Corp., has warned that it would be forced to sell or close the paper if expenses were not reduced quickly. The company reported that The Chronicle lost more than $50 million in 2008 and was expected to lose even more than that this year.
The union is bracing for the paper to cut about 150 guild-covered jobs, Cabanatuan said. The newspaper's management had threatened to lay off 225.

The agreement approved Saturday also includes a better severance package for employees who are laid off or accept buyouts than was previously offered. They will receive two weeks of pay per year of service -- not to exceed one year's salary -- and health benefits for the length of the severance package.
Even with a tentative agreement approved, there remains another key hurdle: getting similar concessions from the International Brotherhood of Teamsters Local 853, which represents about 420 other employees.
Vega said in a statement earlier this week that an agreement with the Teamsters is needed "to ensure the newspaper's survival."
The Teamsters have indicated they would start their negotiations after the vote on this first series of concessions.
Copyright AP - Associated Press