What to Know
Tropical storm Laura formed Friday with winds of 45 miles per hour
A Hurricane Hunter aircraft found the center of Laura south of its previously estimated position
If the system remains intact, it could strengthen as it approaches South Florida on Monday
A depression in the Atlantic strengthened to Tropical Storm Laura Friday as it continued to move across the Caribbean and kept parts of South Florida in the cone of concern.
Laura had maximum sustained winds of 45 mph and was moving west at 17 mph about 40 miles east of Antigua, according to the latest update from the National Hurricane Center in Miami.
The NHC's official track forecast was adjusted to the south Friday, removing a large portion of South Florida from the cone of concern.
With most of the Florida Keys remaining in the cone, Monroe County issued a state of local emergency Friday and will open up the county's Emergency Operations Center in advance of the storm's potential track, officials said. A mandatory evacuation order has also issued for all liveaboard vessels, mobile homes, recreational vehicles, travel trailers, and campers.
Tropical storm warnings were in effect for Puerto Rico, Vieques and Culebra, the Dominican Republic, the U.S. Virgin Islands, the British Virgin Islands, Saba and Eustatius, St. Maarten, St. Martin and St. Barthelemy, Antigua, Barbuda, St. Kitts, Nevis and Anguilla and portions of Haiti.
A tropical storm watch was also in effect for the southeastern Bahamas, and the Turks and Caicos Islands.
Rainfall between one and six inches was expected across the Caribbean.
The current projected path of the storm takes it north of Puerto Rico, Dominican Republic, Haiti and Cuba this coming weekend. Some models have the system tracking further south, which could take South Florida out of the cone of concern if that track takes place.
As it stands now, the official track keeps the system north of Cuba and south of the Bahamas late Sunday into Monday morning. If the system remains intact at this point, it could strengthen as it makes its final approach to South Florida on Monday. Look for conditions to get worse in South Florida Sunday evening with a potential landfall midday Monday.
Meanwhile, a second system,Tropical Depression 14, had maximum sustained winds of 35 mph as it moved northwest about 165 miles east of Isla Roatan in Honduras. It was expected to become a tropical storm on Friday as well.
Tropical Depression 14 was forecast to graze the Atlantic coast of Honduras, then curve northward to Mexico's Yucatan Peninsula possibly at hurricane strength and then potentially head for the Texas or Louisiana coast by Tuesday, again possibly strengthening into a hurricane.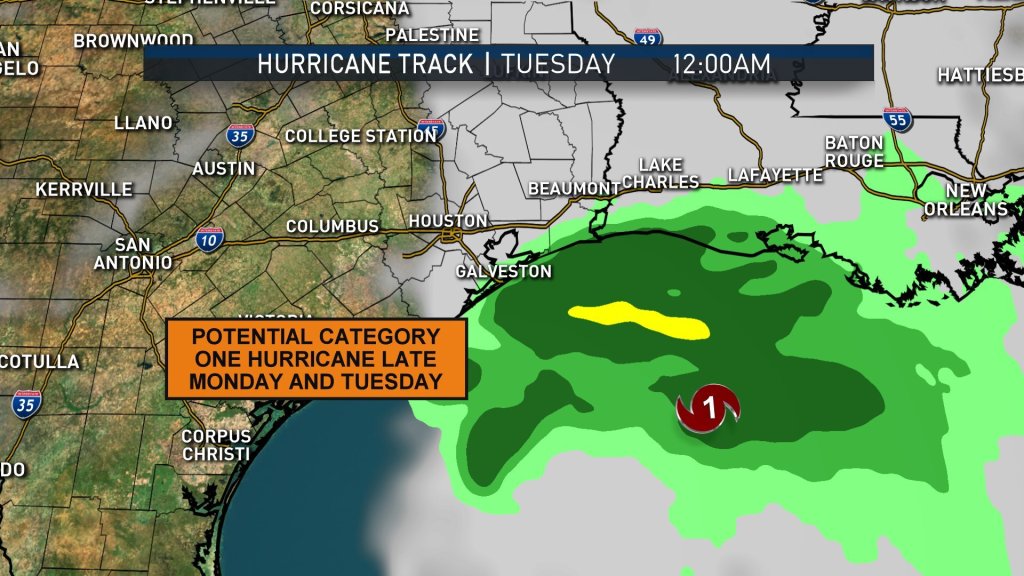 A hurricane watch is in effect from Punta Herrero to Cancun, Mexico while a tropical storm warning is in effect from the border of Honduras and Nicaragua to Punta Herrero, Bay Islands of Honduras, Puerto Cabezas, Nicaragua northward to the border with Honduras and from Punta Herrero to Cancun, Mexico. Rainfall is expected to be anywhere from one to 10 inches across the area.