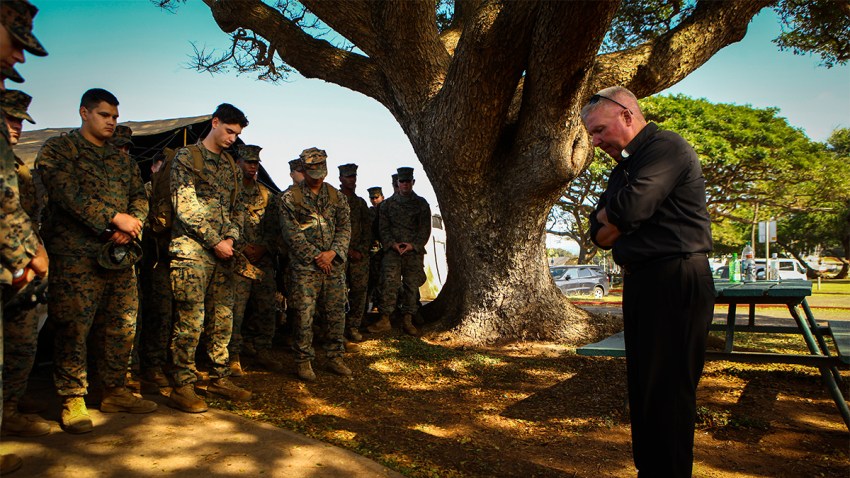 Trace elements of DNA have been found from Marines killed in a helicopter crash off Hawaii last month, the Marine Corps said Tuesday.
DNA traces were found during search and rescue operations that ended on Jan. 19, Capt. Cassandra Gesecki, a spokeswoman for the III Marine Expeditionary Force, said in a statement.
The families of the identified Marines were notified. The Marine Corps wouldn't provide further information at this time about what was found, Gesecki said.
No other remains have been found since.
Twelve Hawaii-based Marines were killed when two helicopters crashed during nighttime training on Jan. 14. Both aircraft were CH-53E Sea Stallion helicopters that were part of Marine Heavy Helicopter Squadron 463.
The Coast Guard initially reported that the choppers had collided, but the Marines said later it wasn't yet known if there was a collision. The cause remains under investigation.
Rescue crews spotted debris 2 1/2 miles off of Oahu hours after the crash. The rescuers searched for the crew and aircraft for five days across waters spanning from the western coast of Oahu to the northeast corner of the island.
A Navy diving unit will use underwater robots to survey the area of the crash and map the debris field, as ocean conditions permit.
Recovery and salvage operations may take several months to complete, but they may be extended depending on the size of the debris field and other factors, Gesecki said.
On Monday, the Marine Corps said a general had fired the helicopter squadron's commander three days before the crash. Brig. Gen. Russell Sanborn, commander of the 1st Marine Aircraft Wing, said had lost confidence in the commander's ability to lead.
The Marines said the commander is responsible for the training and readiness of the squadron.
Copyright AP - Associated Press