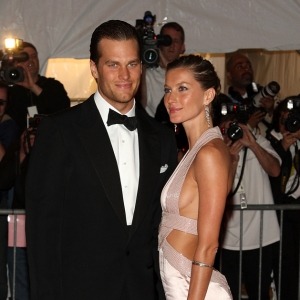 Tom Brady is not getting ready for baby No. 2.
The NFL star told the Boston Herald on Thursday that his wife, supermodel Giselle, is not pregnant, despite rumors.
VIEW THE PHOTOS: Hollywood Dads
"No. No. One is enough," he told the newspaper.
Tom has a son, John, with ex-girlfriend Bridget Moynahan, and said he's got plenty going on at home already without another child.
"I've got dogs," he said. "That's all I need."
Instead, the New England Patriots quarterback is focused on preparing for his return to the NFL after some extended time off thanks to a knee injury.
"I think I'm a happier person when I'm working," he said, adding that he was looking forward to sharing time on the field with his new family life. "I'm excited for all those things coming together."
Related Content from AccessHollywood.com:
VIEW THE PHOTOS: Gisele Bundchen: From The Runway To The Red Carpet
PLAY IT NOW: Eva Longoria Parker's 2009 Rally For Kids Event
PLAY IT NOW: Super Bowl 2009: Are John Madden & Al Michaels Showbiz Savvy?

MORE ACCESS ON THESE TOPICS: Tom Brady - Gisele Bundchen - Couples - Parenthood - Athletes

Copyright NBCAH - Access Hollywood