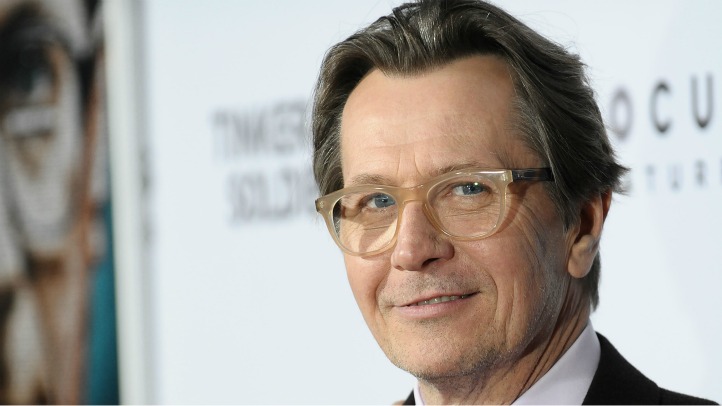 Gary Oldman's measured performance as the quiet British intelligence officer George Smiley may not be the flashiest role of his career, but it still delivers pyrotechnics all its own. As Oscar buzz builds for his stint in "Tinker, Tailor, Soldier, Spy," director Tomas Alfredson's adaptation of John le Carre's seminal 1974 espionage thriller, Oldman talks to PopcornBiz about becoming the anti-Bond, not breaking a sweat as an actor, and his (presumably) final stint as Batman's police ally Jim Gordon in "The Dark Knight Rises."

On George Smiley, last played on screen by Sir Alec Guinness in the 1979 BBC television miniseries:
"I knew who the character was. I'm old enough to have seen the series. He's like an owl, George. He's got those big eyes behind those specs. He sees everything and hears everything. It's nice to play a character like that. It's nice to be the smartest man in the room. Often I play characters that think they're smart but they're not very smart. He's so poker faced. He's just like a sleeping volcano. He's there but it's all underneath."

On the pluses of having a story that allowed him to portray the role with ease:
"If you break a sweat, you're working too hard. This is not only a good script, but it's also supported by the book and the paring down of this piece. Obviously we had to throw a lot of pages out. Tomas has condensed something into one, a composition, four lines and a look, but you feel that you've got the support, the subtext. You bring the book with you every day. It's rare. Because a script is like your emotional map of the world, and often with bad writing you're being asked to make sort of jumps and leaps. Lines don't flow. There's inconsistency in it and you're making it work. You're working very hard to make it work, and when you get something that flows it's like working on Miller or Mamet: you know that you're supported by it. You're not fighting it. It takes you."

On when it is and isn't time to pull out all the acting stops:
"When you go into work in the morning and you know that you've got a big, emotional scene and it could be physical or a fight that you have or it could just be you, you get to work and think, 'I've got to sort of climb that mountain a bit today.' You never know if it's going to be there. There are days that when it comes easier than others, but what was nice about George is that I knew when I got there that I wouldn't be doing any of that. I would just be sitting in a chair and I would listen. I loved playing Drexl [in 1993's 'True Romance'], but it was a four-day shoot or whatever. I've played so many of those. I remember doing 'The Dark Knight' and looking at what Heath [Ledger] was doing. It was dazzling. You could tell very early on just how marvelous he was being, and I remember thinking, 'Rather you than me.' I was quite happy to be playing Jim Gordon. Maybe it's age. Maybe you just start to get a little older."

On the pleasures of getting second and third shots at playing a role:
"I've been extremely lucky, because I was not only in 'Harry Potter' in a role that I reprised, but also Jim Gordon. To get one franchise is lucky; to get two is kind of greedy, isn't it? My fellow actors are like '…AND he's in "Batman." God, I hate him.' I'll tell you what it's like: you don't see family. You're busy. You're on the road, and then at Thanksgiving or Christmas, that's when most people all reconnect and that's a little what it's like. It's kind of like that. You don't see people for a couple of years, three years and then you go back on the set and there's [director] Chris [Nolan] and there's [producer] Emma [Thomas] and there's [director of photography] Wally Pfister and there's Christian [Bale] and all the gang. Some new faces, but it feels sort of like family, like all of a sudden you're getting back together. Both experiences have been good. I mean, if you weren't having a good time, then going back could be hell, I guess."

On Jim Gordon's last stand in "The Dark Knight Rises":
"For us I think it's the end. Whether they will make more, my guess is probably…I mean, they [Warner Bros] don't have 'Potter' anymore! So, there could be a 'Batman' 4 and a 5. It may be Chris overseeing it in a producerial position, but for us and for Chris I think that's it. It's a great way to go out though. It's a great story – Epic, epic thing, it is. I think Chris strikes me as someone who's too smart and sort of too classy to just sort of make a third for the sake of making it. I don't think that's who he is. I remember way back saying to him, 'Is there going to be a third?' He said, 'If I can get the story right. I've got to outdo myself. I've got to do it better than "The Dark Knight." I've just got to get it right.' He set the bar very high, and so he said, 'If I can find a story that interests me I will do it.'

On the specific mark he's left on the character of Gordon, part of Batman's world since 1939:
"I have to go back to that Rolling Stone review: Peter Travers said that I'd made virtue look exciting, which you don't get many of. Once in a while you get one of those. That's all he said, but it was enough. Gordon's like George in that respect: It's moral certainty. With Smiley there's no narcissism. It's for queen and country. He's of that old school. I think if there's any remote connection between Smiley and Gordon it's that. It's that. It's nice to come in and be the moral kernel, in a way."
"Tinker, Tailor, Soldier, Spy" begins its Award-season push this week. "The Dark Knight Rises" is coming July 20, 2012