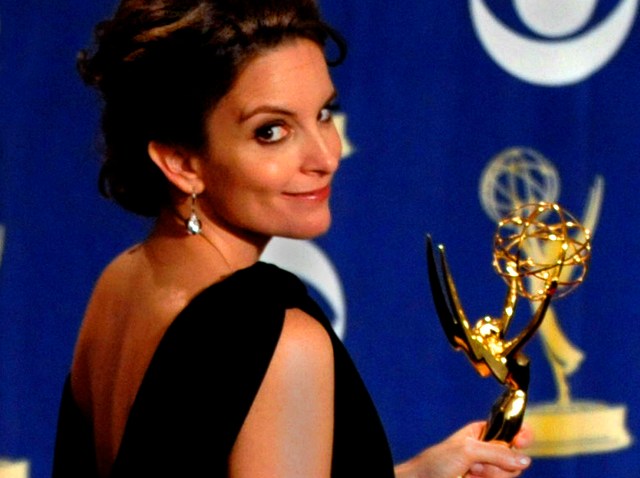 Justin Timberlake is known for his spontaneous "Saturday Night Live" appearances – and "SNL" alum Tina Fey thinks he'd make a great fit on "30 Rock" as well.

"He belongs here," Tina told Access Hollywood during an exclusive set visit to the NBC comedy, which returns for its fourth season on Thursday night. "I feel like it's imminent… I think he's making a movie or something, but if he wants to come sometime after that, we would love to have him. He's got mad skills."

VIEW THE PHOTOS: Justin Timberlake: From The Stage To The Red Carpet!

But could he be a love interest for Tina's lonely Liz Lemon?

"He couldn't," Tina said. "Maybe in a dream sequence and even within the dream she would get so nervous about it that she would be the first person ever to throw up in a dream from nerves."

VIEW THE PHOTOS: '30 Rock' Stars

While that may be in the cards for the show, after guest stars such as Oprah Winfrey, Jennifer Aniston and Jon Hamm joined "30 Rock" for Season 3, Tina said the fourth season will focus more on the cast.

"We'll see them more in their world, we may try to see some new colors on them, some new relationships," Tina said, revealing that "TGS," the show-within-a-show, will be picking up a new cast member.

"Alec [Baldwin]'s character has put it upon me to go and find someone who will appeal to the rest of America because Tracy [Morgan] and [Jane Krakowski] are such New York creeps, that they're trying to find someone normal to be in the cast… be more popular in the real America," she joked.

VIEW THE PHOTOS: Tina Fey

For Tina's part, she says there's one real-life star who's popular with her – Kate Gosselin, who she's considering dressing up as for Halloween.

"Is it bad to admit that I tried to buy a Kate Gosselin wig for Halloween and it was sold out?" she said. "I am Team Kate. I was always very Team Kate from way back."

Admitting that she was a past watcher of "Jon and Kate Plus 8," Tina explained why she favored the reality mom over estranged husband Jon.

"My husband used to say, like, 'Ugghhhh, she's a real blahhh,' I'd be like 'No. Let me tell you something. You know why she's gotta come down on him? Because he's an idiot!" Tina joked.

Related Content from AccessHollywood.com:
PLAY IT NOW: Justin Timberlake & Alec Baldwin's Big Night At The 2009 Emmys - Part II
PLAY IT NOW: 2009 Emmys Red Carpet: Have Tina Fey & Jack McBrayer Won Too Many Emmys Already?
MORE ACCESS ON THESE TOPICS: Tina Fey - 30 Rock - Justin Timberlake - TV - Comedians
Copyright NBCAH - Access Hollywood